Education Report - Jan 2021
Education Coordinators Report 
For groups like the Gallipoli Association it has been a difficult year, with many activities being postponed.
Achievements in 2020.
Despite the pandemic a number of activities did take place to further our aim of honouring, remembering and studying the campaign. In March the Northern Regional Conference took place, with over 70 attendees. Members will be aware, from our media that the GA participated in the renovation of the 29th Division Memorial, a project which involved the local primary school. Despite the lockdown, a community group in Leeds produced a radio play on Gallipoli. I did a number of Zoom talks, in partnership with museums in Warwick and Hereford and a number with U3A groups. (If any members belong to a U3A group or similar and would like me to do a Zoom talk on Gallipoli, do contact me). We have an ongoing project with the Soldiers of Gloucester Museum, helping to produce new digital material. I set up the GA's new YouTube Channel but there is only one clip at the moment – myself doing a talk for schools.
Photograph: Trooper Horace George Turner, Warwickshire Yeomanry, DOW Suvla 29/8/15, commemorated at Brandwood End Cemetery, Birmingham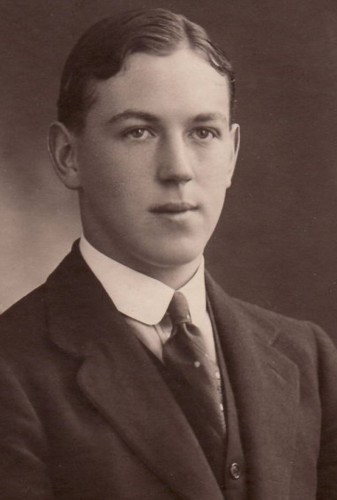 Plans for 2021.
Despite the uncertainty, I have been working with a number of partners to develop projects. As in previous years we are offering bursaries for post graduate students focussing on Gallipoli. We are also continuing the Museum Champion scheme, offering a discounted place on a Gallipoli tour to a museum volunteer. Applications for these can be made by contacting myself. Discussion is ongoing with a number of museums, schools and community groups regarding new projects. Plans are being drawn up for projects remebering the Worcesters and the Lancashire Fusiliers. We are planning to produce new education on line teaching material for schools, focussing on stories of the campaign where we already have active partners. We are also planning a series of Gallipoli themed walking tours on Gallipoli, in Warwick and possibly Winchester but, obviously, these depend on the situation.
Opportunities.
I am always looking to develop projects with schools or colleges, not only in the UK but also in Eire, Turkey, Australia, New Zealand and Newfoundland. I am also hoping to set up an on line group of teachers, to advise me on teaching materials etc. Any volunteers are most welcome. I would envisage no more than a two hour meeting a term.
I am beginning to produce an online roll of honour which will be on the website. To begin with I will be putting on details of those men who I have come across through my work with community groups. I plan to also include these details in occasional, online, booklets. However, if members, would like a relative included, they should contact me.
School Tour of Gallipoli.
Members may be aware that in 2019 we supported a UK secondary school in going on a tour of the peninsular. Due to the generosity of certain benefactors, including members, we are able to do this again. There is a possibility of supporting another school in October 2021, if the Covid 19 situation allows. The GA will make a significant contribution to the cost. Any member who has connections with a school who may be interested, should contact me.
Events.
We are beginning a series of monthly Zoom talks. The first is on Tuesday 26th January at 7.30 UK time and is free to members and no- members. The talk is given by myself and is on The Irish Soldier at Gallipoli. To receive a formal Zoom invite contact me.
Our next regional conference is planned for March 20th in Warwick, to be followed by a commemoration of the 29th Division the day after.  Details are on the website. If the rules prevent this happening it will take place on Zoom. To reserve a place contact me.
If members want any more details of the above they can look on the website or contact me. Any members with ideas for projects, involving museums. Schools and/or community groups are also most welcome to contact me. I may even be able to provide some funding!
Ian Binnie, Trustee and Education Co-ordinator.
Contact details: education@gallipoli-association.org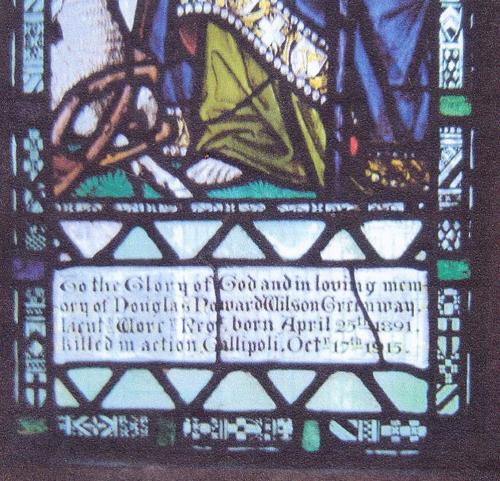 The image is of a window commemorating Lt Douglas Greenaway of the Worcesters KIA 17/1015. My discovery of this window in my local church led to a very successful community project.