Education Co-ordinator's Report, May 2022
The long weekend.
The life of the EC can be very hectic. The four days around Gallipoli/ANZAC Day this year were particularly busy. We must not forget, however, that many others in the U.K. and around the world worked hard to ensure that the first Gallipoli/ANZAC days since the lockdown were such a success.
Saturday 23rd April: Gallipoli themed trench day at the Staffordshire Regiment Museum.
The staff at the museum agreed to their World War One trench being reconfigured to represent a trench in Gallipoli. Re-enactors (some posing as Turks) and volunteers did a great job explaining the dangers of serving in a trench in the peninsula and highlighting the differences from and similarities to, those on the Western Front. Two volunteers had put together an excellent display and I gave two talks, which were well received. Numbers were slightly lower than expected due to the very cold weather and we were competing with a free St. Georges Day event nearby in Tamworth (can Gallipoli really compete with mediaeval jousting?). Over 70 attended and it was great to meet some GA members from the area. My thanks go to all those who worked so hard to make the event a success. We hope to repeat it next year.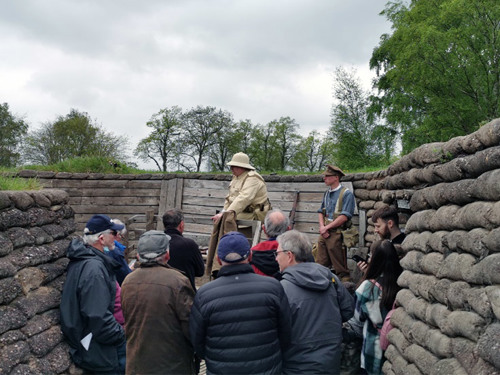 Re-enactors in action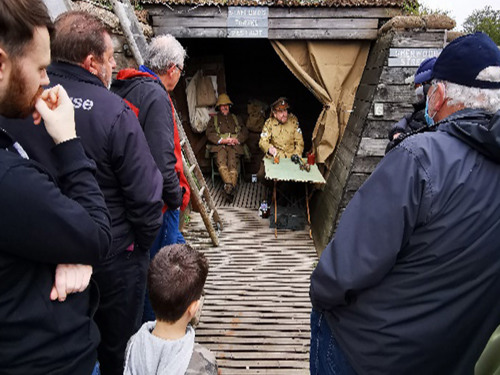 Does this dug-out look safe?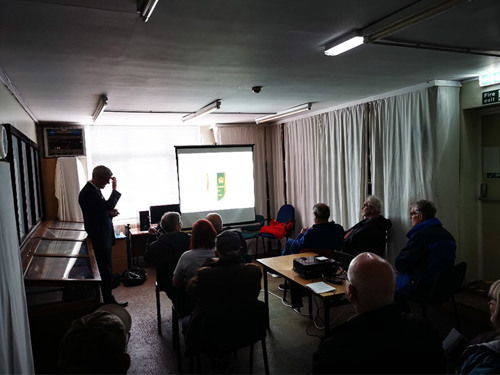 The EC pauses for thought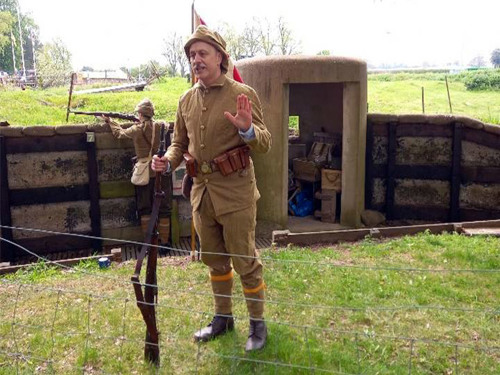 One of our Turkish re-enactors explains what his comrade is shooting at
Sunday 24th April: Gallipoli/ANZAC Day commemoration at Brandwood End Cemetery, Birmingham.
With commitments either side of the Sunday, this was always going to be a small scale affair. We were privileged to have a local councillor and some veterans (not of Gallipoli!) present. I am building up contacts with the aim of having a much larger event in the second city in 2025, the 110th anniversary.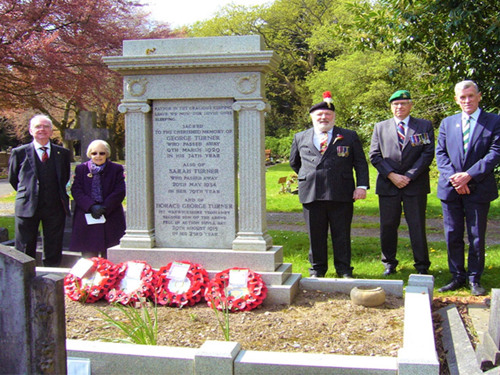 Some of the great and good at Brandwood End cemetery
Monday 25th and 26th April: two days at Henley Green primary school, Coventry.
Using the good offices of an organisation called Artists in Schools, I commissioned an artist to work with students on a Gallipoli themed piece of artwork. The artist, Heidi, spent two days with two Year 5 classes designing and producing felt banners about Gallipoli. Henley Green is an excellent school serving an area of Coventry with many challenges. I spent time with the classes teaching them about the campaign. The two days went very well. The students were very well behaved and showed a real interest in the campaign.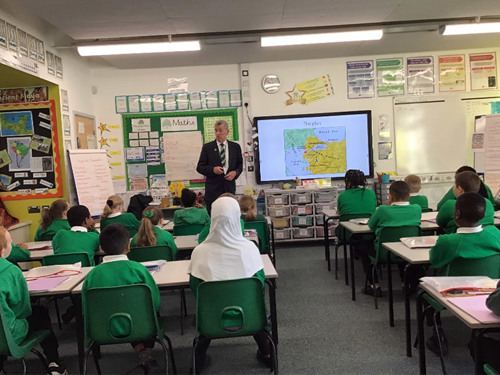 Back in the classroom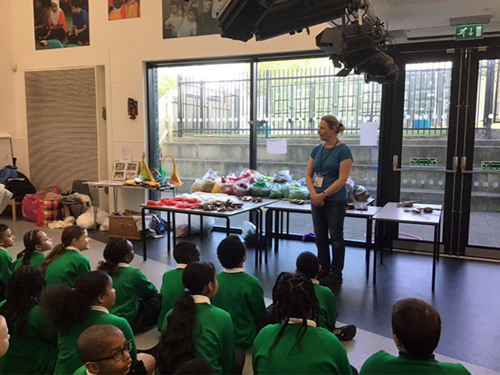 The artist in action
Below is a letter from one of the year 5 teachers.
Hello Heidi and Ian,
I just wanted to thank you so much for the amazing and original workshop that you led for us over the last two days.
When we were initially asked if we would like to participate in this project, in conjunction with the Gallipoli Association, it was a great opportunity as we'd been studying some of the reasons why the First World War had taken place.
Through the work that you did and supported by the history of Gallipoli which Ian shared with us, the children have had such enrichment.
They were captivated by the felt making process and it made it all the more real because it related to books that the children had read previously and this gave them some personal resonance during that time.
Thank you for being so warm, friendly and encouraging with each and every one of them. These children do not always get the privileged opportunities and experiences that others are used to and to have someone who could teach the felt making techniques in such a calm, clear and organised way made them very lucky. I have no hesitation in believing that the Gallipoli Association will see the beautiful outcomes are real value for money.
I would not hesitate to highly recommend you and ask you to return to our school.
Thank you from the children and staff of Year 5.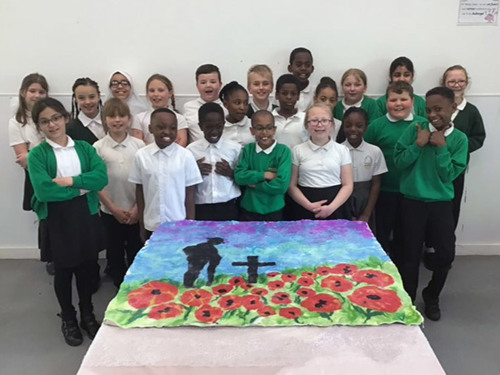 One of the finished banners
I had also commissioned another artist to work in a Coventry secondary school during those two days. The weekend before he broke his wrist doing DIY (this is why I try to avoid household tasks!) and the event had to be postponed. The sessions will take place later this year.
I also helped with the planning and organisation of the Gallipoli/ANZAC Day commemoration at the National Memorial Arboretum on the 25th April, which was a great success. Robert Rathbone has produced an excellent video of this event. It is on our YouTube channel.
I finished a very enjoyable four days by hosting Tom Iredale's excellent Zoom talk on the French at Gallipoli. The recording of this can be seen on our YouTube channel.
All this whilst suffering from a terrible bug given to me by my youngest granddaughter!
Ian Binnie,
9th May 2022.