Welcome to the Gallipoli Association education page. Ian Binnie is the recently appointed Education Coordinator for the Association. The Trustees place great importance on educational activities which keep the memory of Gallipoli alive and further the knowledge and understanding of the campaign. Ian's predecessors were involved in the very successful Gallipoli Centenary Education Project (GCEP) which has a huge amount of educational material, including factual summaries, guidance for teachers and lectures, teaching material and many different film clips.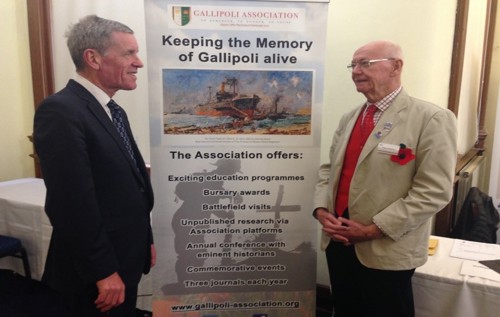 The GCEP website contains details the many school and college projects which took place during the year, often in conjunction with military museums, all of which are now over. If you a teacher or college lecturer reading this, there is still a small amount of funding available to support new projects. Ian would be delighted to hear about your ideas. The Trustees are also keen to support projects involving adults. If you represent a community group or local history group and are thinking of organising event to promote knowledge and understanding of the Gallipoli campaign do get in touch. You can contact me via mailto:education@gallipoli-association.org. Ian is in the process of discussing new projects with schools, colleges, universities, museums and community groups. Details of these will be posted on this website when the projects begin.
The section on School Projects on the GCEP website has a tab entitled Getting Started. This contains some guidance on educational projects and also three tabs;
Resource pack: this contains excellent downloadable material for teachers, including maps, worksheets and powerpoints. The pack was written for us by Julian Vayne. The resources are intended for secondary and post-16 students, although primary teachers may find ideas for class activities.
How shall we teach young people about Gallipoli?: this contains guidance for teachers on using drama and developing knowledge and skills, supported by two short film clips. There is also a clipin which Peter Stanley, an Australian historian, warns about the teaching of militarism.
Researching Gallipoli Soldiers: this is a short section on doing research on individuals.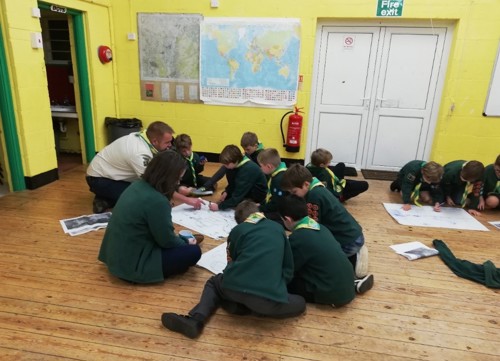 The Getting Started tab can also be accessed through the section About Gallipoli. This has a number of different tabs
The Campaign: has seven subsections on subjects ranging from the quality of generalship to the use of submarines. There are a number of film clips.
The world at war: includes sections on Indians, Turks and Australians at Gallipoli, including the importance of the campaign to those countries. There are film clips and maps.
Soldiers' stories: has 12 sections, including individual stories but also sections on women and Gallipoli, how the wounded and prisoners were treated and the Quintinshill rail disaster
Gallipoli: what does it mean?: has sections on music, poetry and art, again with film clips and a section on challenging the myths of Gallipoli .
After the war: includes sections on the lives of British soldiers and Turkish children after the war, medals and a film clip featuring the historian Hew Strachan entitled did "Gallipoli Change World History"
Gallipoli today: contains film clips on the remains of trenches and bunkers and battlefield relics as well as a film clip by Tour Guide Keith Dolan, on what Gallipoli means today.
The Useful Links section of the website has links to other online resources on the campaign, again including many film clips. The Blog, although containing some interesting descriptions of school projects is no longer used.
The main Gallipoli Association website also has some useful resources for teachers, lecturers and community groups, namely the sections FREE online Gallipoli books and Other Gallipoli Websites.
If you want any further advice on teaching or researching about Gallipoli do get in touch.
If you use Twitter, you can get a lot of useful ideas from following Gallipoli100.
_________________________________________________________________________________
Exciting Opportunity to work with the Gallipoli Association
Grants offered for community activities involving Gallipoli memorials
The Gallipoli Association is an international study group which aims to promote the knowledge and understanding of the Gallipoli campaign. It has nearly one thousand members. More details about the Association, including membership, can be found on this website. From September 2018 the GA will offer small grants of up to £500 to community and educational organisations to highlight UK memorials which honour those who died in the Gallipoli campaign. There are 63 memorials relating to Gallipoli listed on the website www.warmemorialsonline.org.uk. Some of these relate to individuals, some to group or even whole units. There are other generic memorials which contain names of those who died in the campaign. Activities involving these can also be supported. Many of these memorials are situated in churches. Grants will be available to bona fide community organisations, churches or educational establishments.
Type of activities that can be supported
Indoor and outdoor display panels
Other static displays about those named, for example in display cabinets
Information booklets
Research activities exploring the background of those on the memorial
Activities involving local schools either around visits to the memorial or class room based
Remembrance activities
Talks/lectures to groups or the public on the memorials
It must be stressed that the memorial should not be touched, moved or altered in any way.
Extent of community involvement
There is an expectation of direct local community involvement in the supported activity i.e. production of display material.  There would also be an expectation community involvement at launches, commemorative events etc. Applications for grants would have to specify the extent of this involvement.
Timescale
The GA welcomes applications between September 2018 and July 2019 for projects to take place within this period.
Applications
Groups interested in applying for such a grant should contact the Education Coordinator, Ian Binnie, via email on education@gallipoli-association.org for an application form. Each application will need the approval of the Trustees of the Gallipoli Association. This process will normally take six weeks from receipt of the application.
This is a great opportunity for community groups to be involved in preserving the heritage of the UK, raising awareness of the Gallipoli campaign and promoting knowledge about local war memorials.