Many thanks goes to member John Hartshorn for the following article on his Great Grandfather. 
Able Bodied Seaman Thomas Otto Hartshorn, Nelson Battalion, Royal Naval Division, Tyneside Z/2243.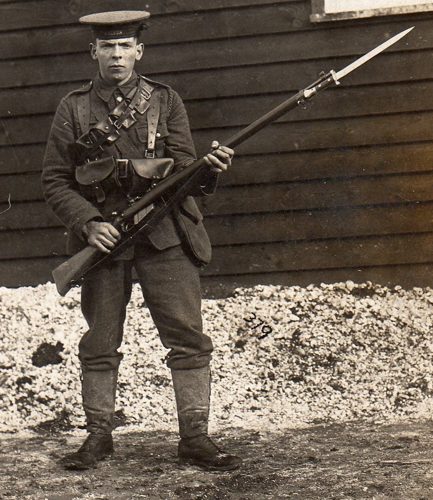 He served in A Company, No.4 Platoon, 14 Section with 10 others. Platoon commander at the start of their engagement on Gallipoli was Sub Lieutenant Guy Cooke, RNVR.
Much of the following comes from his war record, letters published in local papers about a specific event and a fantastic book called "Nelson at War, 1914-1918" by Roy Swales, 2004. Roy Swales has provided much assistance to me, for which I am immensely grateful. This information will be expanded if, and as, I uncover more detail. In fact, in an amazing coincidence, Roy's father was Able Bodied Seaman Charles Swales, and was one of the 11 of 14 Section along side Thomas Hartshorn!
Departed Avonmouth Docks at 20.00 on Monday 1st March 1915 on RMS Franconia as part of Mediterranean Expeditionary Force, then Fought in Gallipoli 29/04/1915 until 22/08/1915 when invalided home via 11th Casualty Clearing Station and Hospital Ship Esmeralda. Honourable discharged 21/08/16.
Initially landed under shrapnel fire at around 20.00 at Ansac cove via rowing boat under heavy fire on the evening of 29/04/15 to support the Australians & New Zealanders in the "Defence of Anzac". The rowing boats initially were towed by a torpedo boat from the troop ship HMT Minnetonka which brought them from Port Said in Egypt.
After landing at Anzac Cove, they spent some time in reserve & trench digging, then fought in Shrapnel Valley, The Chessboard, Baby 700 and The Nek until 13/05/1915. At 23.45 on 13/05/1915, departed on HMT Alnwick Castle for Cape Helles, arriving there on 'V' Beach at 10.00 on 14/05/1915.
Then fought for the rest of May, June, July & August in the Achi Baba Nullah and Krithia Nullah area, including 3rd Battle of Krithia 4-6/06/1915 and the Action of Achi Baba Nullah 13-14/07/1915.
"Went over the top" again at 17.00 on 13/07/1915 at Achi Baba Nullah with orders "to charge, jump 3 trenches and occupy the fourth". The order to take the trenches was only passed to the attacking battalions at about 16.15, 15 minutes before the attack was due to start. At 16.30 the artillery barrage lifted, but it was not until nearly 17.00 that the Nelson Battalion (and Portsmouth Battalion) were ready to execute the "over the top" attack against forewarned and fully prepared Turkish defences. The Nelsons' brave attack was launched late and almost blind, and they advanced swiftly through a very heavy Turkish shrapnel curtain accurately aimed by the German spotters on Achi Baba.
The Divisional War Diary records the reports back to HQ VIII Corps:
16.35 Can see nothing for dust from bombardment
16.50 Continuous stream of Naval Division charging...
16.55 Men are charging
17.10 Men are charging over crest line... Charge successful, nobody appears to go back
17.14 Men appear to be moving...
17.18 About 30 men running... halfway between E.12 and trench beyond
This was "the battalion's worst day on Gallipoli" with only 40% of Ordinary Ratings" left by the end of the day compared to when first arrived on Gallipoli.
The stench from the piles of rotting bodies caused the living garrison of the trenches to vomit even when they were wearing respirators in a futile attempt to stifle it.
Of the 11 in 14 Section, No. 4 Platoon, A Company, here are their fates in terms of their Gallipoli service as recorded by AB Seaman Charles Swales of that Section:
LZ/94 Leading Seaman Frank Albert Rooke - wounded 19/05/1915 & 13/07/1915
TZ/16 Able Seaman Benjamin Wilson - wounded 13/07/1915
TZ/213 Able Seamn James Alexander Bell - wounded 13/07/1915
TZ/43 Able Seaman George Edgar Francis - sick 11/06/1915 (rejoined 10/08/15)
TZ/50 Able Seaman William Charles Nichol - sick 16/06/1915
LZ/344 Able Seaman Charles Leonard Swales - wounded 03/05/1915 in attack on Baby 700
CZ/103 Able Seaman James Harrison - wounded (May) then killed 13/07/1915
TZ/2244 Able Seaman William Harrison - wounded 13/07/1915 (see soldiers' letters below)
TZ/2243 Able Seaman Thomas Otto Hartshorn - sick 22/08/1915
CZ/110 Able Seaman Robert Dickie Craig - wounded twice 21/06/1915 and 13/07/1915
KX/40 Able Seaman George Laverick - sick 30/05/1915
Sub Lieutentant Guy Cooke was killed in action on 03/05/1915 in the attack on the hill Baby 700. His body was never found.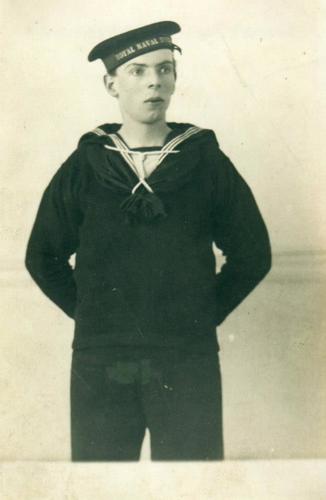 In letters from the front published in a North East newspaper, the events of 13th July 1915 that Thomas Hartshorn was involved in are described as follows:
 ===
 SEAMAN W. HARRISON OF SOUTH MOOR WOUNDED
 SAW HEAPS OF DEAD TURKS
Seaman W. Harrison, the bright, brave young fellow of South Moor, who was reported on Wednesday as having been wounded at the Dardanelles, has sent home several interesting little mementoes to his parents, among which are flowers and leaves that grow on the Gallipoli Peninsula. He was a jolly, happy lad, very popular with his chums, and took a great interest in the Primitive Methodist Chapel football team.
"I THOUGHT THEY HAD SHOT BOTH FEET OFF"
"THEY CARRIED ME OVER A MILE"
Writing home this week-end he says:-
It seems a long time since I wrote home to you, but "better late than never". By the time you get this, I expect your will have had one either from Jack [John R. Muirhead] or Tommy [Hartshorn]. Poor Tommy [Hartshorn] was very much upset to hear of me being wounded. He did his very best for me. They carried me over a mile, another chap and he. Dear parents, don't cry for my sake, or fret over it, for I only did my duty. I am now on the hospital ship. It was on 13th July that we went to the trenches, and at 5 o'clock we made a charge on the Turkish trenches. I went through shot and shell. How they missed me, I don't know. I got to a trench, but it was the wrong one. Then our officer got us together again. No one hesitated. At one time I could not see anybody on either side of me, or a good long way in front. As soon as I got over I slid into a gully or ditch, and considered myself lucky to come through such a heavy fire. Never mind. I no sooner slid in than something gave me a hard smack on both ankles. I thought they had shot both feet off, and was pleased to find they had not. Shortly after I got hit, Tommy [Hartshorn] came dashing over from the trenches. I saw him first. Then he saw me. "Hello, Bill" says he. "Hello Tom lad," says I, "I've been hit Tommy." "I don't know how I missed getting hit," says he. Then I asked him to bandage me up a bit and he did so, and then went back under cover. Another chap also helped to get me out. It was about 5.30 or 6 o'clock pm when I got hit. I lay there for three hours before they dare move me. At about half past nine Tommy [Hartshorn] and his kind companion got me up and carried me back over two trenches, and got into the third. When we landed here we could not walk for dead Turks. They were in heaps, and poor Tommy [Hartshorn] had me on his back, and I should think my weight almost broke him down as I was 11st. 10lbs. at the Palace.
I fell in with Joe about 2 or 3 hours before we went into the charge. He was looking well. I know nothing of G. Carr, but he was in the same as I was. I am enquiring all over for his whereabouts.
I don't want you to be upset as I am alright.
- Billie.
 ====
LETTER FROM SEAMAN TOMMY HARTSHORN, OF LANGLEY PARK, TO MRS. HARRISON OF SOUTH MOOR
Seaman Tommy Hartshorn, of Langley Park, is one of Seaman Harrison's pals out at the front, and he has sent a short letter, as follows, to Mrs Harrison, at South Moor. –
Dear Friends, It gives me great pleasure to write a few lines. I know your loving son well. We have been mates since we were at the Palace together, and it will take something to part us now. He tells me you fret about him, but I hope you will keep our heart up. My dear mother used to fret about me, but as I kept telling her I was all right she stopped doing so. It is no good fretting. Your son will pull through all right I hope.
Your loving friend, T.O. Hartshorn.
 ===
LEADING SEAMAN MUIRHEAD, OF SOUTH MOOR, DESCRIBES HOW SEAMAN HARRISON WAS WOUNDED
Leading Seaman Scout John R. Muirhead, R.N.D., of South Moor, has sent the following letter from the Dardanelles to his parents at South Moor. After mentioning some private affairs he says:
I've lost my chum Billy Harrison, as you will know by this time. They had just driven the Turks from the trenches at the point of the bayonet when they dropped down to take cover from the heavy fire, which was being poured in on them by the Turks. Tommy Hartshorn of Langley Park had lost touch of Bill and started to crawl about to find him. He saw Billy lying down by himself, and managed to crawl over to where he was. He said "Hello lad, is th' awl reet?" But poor Billy moaned and shook his head. Tommy [Hartshorn] looked at him and saw that he had been hit in both feet. He bandaged him up and at once got help, and had him removed as soon as he could. He afterwards helped to carry a lot of others who had been wounded. One Turk was wounded and lying under a heap of others and asked Tommy [Hartshorn] in broken English for a drink of water. Tommy [Hartshorn] gave him one and wanted to drag him out and carry him away, but the Turk refused and said he would wait till dusk. I hope Billy will soon be home. He is in a good hospital now, and is being looked after and properly attended to. Like a good many more he has proved himself a man. - Jack
 ======
On 22/08/1915, Thomas Hartshorn was sent to 11th Casualty Clearing Station (on the beach) and from there back to England on HMHS Esmeralda and admitted to hospital with dysentry, eventually being invalided out of the war 06/09/1916. Went back to work as a miner, living from 07/10/1893 to 31/05/1982 (89 years).