ANZAC - Corporal Percy Smythe, 3rd Battalion, 1st Brigade, 1st Division, AIF - By 18 September Percy Smythe had been made Corporal just before his battalion were withdrawn for a period of rest in Shrapnel Valley - presumably in the offshoot Rest Gully. Here they settled down into a routine.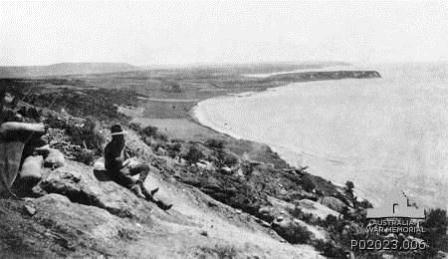 Photograph: A soldier sitting on a slope at Ryries Post looking south along the coastline to Gaba Tepe.

"Commenced with a regular order of things this morning. "Reveille" at 6a.m., consisting of a lot of blasts of a whistle; "Warning for Parade" at 6.15a.m. being three long whistle blasts; "Assemble" at 6.25a.m. being two blasts; and "Fall in" at 6.30a.m. being one blast. We got the platoon on rifle shooting with the periscope rifles. Most of the shooting was very bad. After breakfast we went on with the shooting which continued to be very bad. Long was the only one to get a decent group. At the end sjt. Hunt and I had a go at it, and by mistake we both fired at the same target. The whole ten shots got in the bull. After finishing at the range, we went round to White Valley and practised bomb throwing till 11a.m. Organised a chat-hunting expedition, and searched all through my clothes. Did well, bagging three chats and about twenty eggs. After dinner, went for a swim with Long and McNamara. Washed singlet and some handkerchiefs while there. We found a little humpy where milk was for sale at 1/9 a tin. It is downright robbery. These fellows are taking a mean advantage of the soldiers who are fighting for their country, and who have to either pay the exorbitant price or else go without. Bought a tin of the precious stuff. Wrote a letter to Vern with birthday greetings. At 4p.m. we all had to fall in for an inspection by General Walker. As, however, he had addressed A Co. before, we were promptly dismissed. When we fell in for tea the usual quiet prevailed, an occasional rifle shot breaking the stillness. All of a sudden, however, the place seemed to be in an uproar, the air vibrating with the crackling, spluttering, and hissing of musketry, the bursting of shrapnel shells, and the heavy roaring of our own artillery. Now and again shrapnel bullets pattered down around us, one striking sjt. Hunt on the knee, but doing no damage. It sounded like a violent thunderstorm on a large scale. I felt quite happy while it lasted, as I like to hear the noise. It sounded more like a real battle than anything I've heard yet. It didn't last long however, and soon died down again. As we could hear no machine guns, I thought it was probably only a demonstration, but heard afterwards that the Turks attacked at Lone Pine, but were beaten back. After tea, started writing a letter to Bert. When it got too dark to write I went for a walk down to the beach. Went along towards Gaba Tepe as far as our supports, which were occupied by the Light Horse."

"

SOURCE:
Internet The World War I Diary of Percy Smythe, http://www.smythe.id.au/diary/index.htm This diary was transcribed by his daughter Betty Smythe.