IMBROS - Lieutenant George Davidson, 89th Field Ambulance, RAMC, 29th Division - Davidson and the 89th Field Ambulance had been withdrawn from Suvla to the island of Imbros. Even there they were not safe as they found out early on 17 September.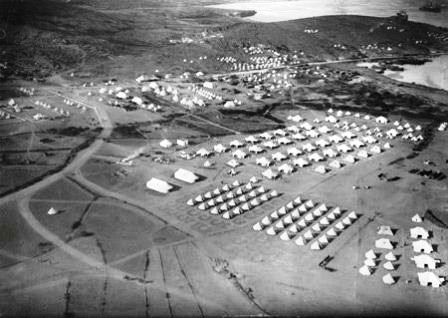 Photograph: View for the air of the Casualty Clearing Station at Imbros

Just as I got out of bed at 7 am someone called out that a Taube was dropping bombs. It dropped four a short way from us. It was at a great height and got a good peppering from our ships in the harbour. In about fifteen minutes it returned, or it may have been another aeroplane, and let loose five or six bombs at the G.O.C. in C.'s H.Q. where, I afterwards heard, five men were wounded. It was heading straight over us, but the fire again got too hot for it and it made off to the south, but it was most daring and persistent and put in a third appearance, when one of our monoplanes, a very fast machine, went up and we expected some fun. After ascending in large spirals they got on the same level when the Taube turned round and faced our machine, both now at a very great height, and both evidently firing at each other, when suddenly our machine dived down at a tremendous speed. We of course thought the airman or his plane had been disabled. We heard in the evening that his gun jammed, and being helpless he wisely cleared out.

Stephen and I were to take the whole Ambulance to Panagheia, and I went early to the Lanes, to get their Sick Parade over. Stephen promised to assist and was to be up early too, but he turned up last for breakfast, and I had inspected two companies before he arrived. Nothing eventful happened on our 6 or 7 mile march across the mountains. Big, threatening thunderclouds, with rain on the high peaks before us, rather detracted from our enjoyment, and the Greeks we met pointed to the clouds and with a descending motion of their hands prophesied rain. However, it never did rain and the afternoon was perfect. The Greeks followed us with pony loads of grapes (Staphila, they call them), pomegranates, and figs, and we fared well. A pony in front of us tumbled down a steep incline and we straightway wished to buy its load which was scattered everywhere. I picked up a lot of figs which were dead ripe and delicious. The black grapes of these parts would be difficult to beat, and I must have eaten 3 Ibs. of these on our way. After halting the men beyond the village, and having lunch to which they were allowed beer, a luxury which few of them had tasted for many months, Stephen and I went to a small village Haifa mile further on. Many go from Panagheiato Castro,a fishing village, but our little place was off the beaten track and quite unspoiled. We entered a primitive cafe where we had a cup of good coffee, served as usual in a very tiny cup with a big tumbler of water. Two Greek policemen were sipping their coffee and playing cards, and we managed to enter into conversation with them and some other loafers. Many of the old women were spinning about their doors, and we saw some of their work. Their wool (goat's) when carded is very fine and fluffy, but the material when woven is hard and looks as if it would wear for ever. Next we sat down in front of what we thought was a school and made a sketch of it. It turned out to be the church of Sainte Varvara. The school is alongside, and the dominie had eyed us and came over and took us through the church. We thought he was a verger, and Stephen wished to purchase every holy relic in it. Then we tipped him a few coppers, and tapers were accordingly lit and planted in a basin of sand. All the Greek churches we have seen are very ornate and tawdry, with a multitude of pictures and tall candlesticks. The pulpit towered till it almost touched the low ceiling. The centre of the churches is always vacant, and round this space there is always a row of high-backed seats. I fancy the difference between the Greek and Roman churches is not great. Both give much prominence to the Virgin and Child, but I am told that one of the differences is that the former does not regard the Virgin as a Saint. A number of saints were pictured here, including Sainte Varvara, to whom the building is dedicated. We next looked into the school, a tumble down place, but clean and tidy, and with about forty bright, neatly dressed children.

Stephen was delighted at the sight and beamed on them all, and yelled and laughed, gave a little chap a sum of multiplication on the blackboard which he did correctly, then he had to show him his new and more complicated way of getting the answer. This new method is very peculiar, but the two answers were identical, to the astonishment of the dominie, who was apparently able to follow the steps "Now," says Stephen, " I want all the children to say ' Venezelos good' and to give him a cheer." This was done most heartily. " Now, say Gunariz bad." This time, I think, they did not understand what was wanted of them ; however, with a little persuasion from Stephen and the dominie they got through it in a mild way. There was something refreshing and homelike in our visit to the kiddies. They all jumped smartly to their feet as we were leaving. The dominie accompanied us up the street, where we admired the trees laden with clusters of beautiful red-cheeked pomegranates. I had never seen this fruit growing before, but here every garden was full of it. We next stopped to watch a woman spinning inside a doorway, with an instrument like a fiddle bow-either that or she was carding the wool with it, this being in fluffy billows about her on the floor. She asked us to enter-all by signs of course. We had a look round her kitchen which was very clean, the fireplace and articles about being mostly not unlike what one could see at home. In a corner was a broad, low divan on which she threw some cushions, on which we sat with our legs tucked under us, which we supposed was the correct fashion, and what was expected of us. She next got us two small glasses of brandy, a saucer with a few small biscuits and two tumblers of water, and placed all neatly on a small table with a cover. The brandy was strong and scented, and not much to my liking; however, I drank it and felt grateful to this good soul for her hospitality and showing us a little Grecian home life. At one side of the room there was a part shut off by a curtain which we concluded was a box-bed, but Stephen had a look in and found it full of shelves with blankets and articles of clothing. ' But where do the devils sleep ?" Stephen kept on saying, and by resting his head on his hands and snoring he tried to get the woman to understand that he was curious as to this point. Her demeanour at once changed, her temper was up, and we cleared off down the street.

"

SOURCE:
G. Davidson, The Incomparable 29th and the River Clyde (Aberdeen: James Gordon Bisset, 1920), pp187-191.