SUVLA - Captain John Gillam, Army Service Corps, 29th Divisional Supply Train, Suvla - Once again Gillam was settling into the new routine. On 18 September he had a reasonably good day but could not help thinking longingly of peace.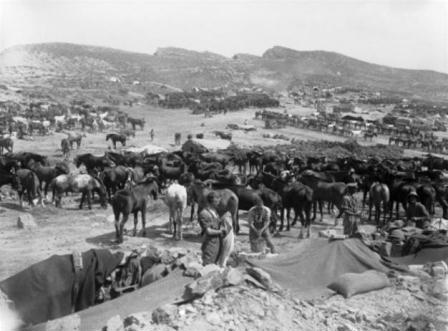 Photograph: The base camp at Suvla Bay with Karokol Dagh ridge (Part of Kiretch Tepe) in the background. IWM Q 13452.

"A fairly quiet day. Beautiful calm moonlight night. Have to get water up from 'A' Beach to De Lisle's Gully ready for the 86th, who arrive to-morrow. Thank Heaven it is moonlight. Go up first to H.Q. of Brigade by car. Country smells lovely. We have not been here long enough yet to spoil the land. Hardly a rifle shot in front. Go over to De Lisle's Gully and back to D.H.Q., up to Brigade again, and once more; then to the gully, arriving home at midnight. Actually enjoyed the trip, but looking at the calm sea and moon, and the landscape of mountain and gorse, with the continual chirping of the crickets, how I longed, craved, and yearned for the day when Peace will be declared."

"

SOURCE:
J. Gillam, Gallipoli Diary, (Stevenage, The Strong Oak Press, 1989), p.231.