HELLES - Sub-Lieutenant Ivan Heald, Hood Battalion, 2nd Brigade, RND - All over the Peninsula men were beginning to realise that there was no hope of success in 1915.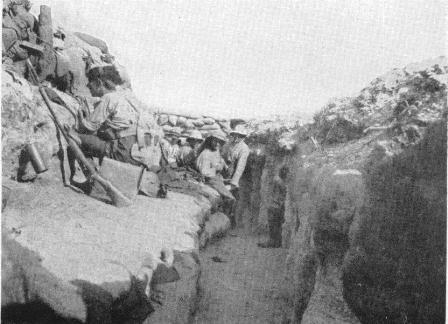 Photograph: RND troops in the firing line.
I don't know how long we shall be out here. It may be a week or two or it may be for a winter campaign. I am feeling very fit and I am planning some half- holiday rambles through the trenches now that the cold weather is here. There is no other place to walk. In this last trench we were in we were only a dozen yards from the Turks, and one morning they threw bombs at me while I was shaving. The dead men are not so bad now because most of them are burned. They set alight in some mysterious way and at night you can see them blazing in front of the parapet and all their ammunition exploding like squibs and sending up sparks. There is a funny story about a Turk who got through somehow and came to our lines wanting to surrender. He went about offering himself to every soldier he saw, but they all thought he was some sort of French colonial or Ghurkha who wanted to pinch a tin of jam and they chased him away. The poor chap, who was starving, at last went to the Army Service Corps, where the food is, and managed to persuade some one that he was an enemy. Glory be! The flies are disappearing. You cannot imagine what plague they were. Up in the trenches where there were so many dead, the flies were man- eaters and would rather settle on our faces than on our tins of jam. I hope you are well; and I sit and long for the day when I shall come marching home again to see you all. But I keep cheery.
SOURCE:
I. Heald, Ivan Heald: Hero and Humorist (London: C. Arthur Pearson Ltd, 1917), pp.168-169