SUVLA - Captain John Gillam, Army Service Corps, 29th Divisional Supply Train - For Gillam the boredom and monotony of war was taking its toll.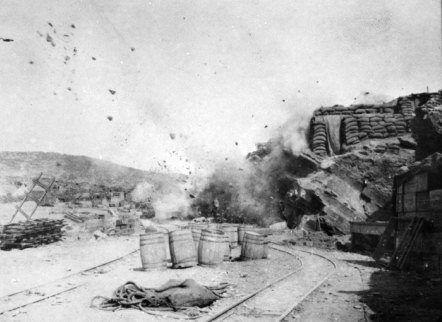 Photograph: A Turkish shell explodes at Suvla harbour.

The past days, since I last entered up my Diary, have been so monotonous that in a fit of sulkiness I threw it on one side, saying I would not record another day's events, for nothing happens. The monotony knocks Helles sideways. I go up every morning to D.H.Q. at the top of our gully to take instructions. I see the Main Supply depot to arrange drawing the day's supplies. I wire the strength of the Division to G.H.Q. I read papers three to four weeks old ; I answer letters of the same age. Some days I go up the slope opposite our bivouac, and, climbing down the cliff on the other side, have a topping bathe. I strafe flies by the thousand they are a damnable pest. I watch the battleships pooping away, and at odd times have to duck from a Turkish shell. At dusk I superintend the loading up of rations and water, and go up to Brigade H.O. for a chat. The atmosphere of their company, however, always bucks me up.

Our guns poop off at odd intervals each day, and ammunition appears to be becoming more plentiful. The Turks are continually busy with shrapnel over Chocolate Hill and the low land, especially at Hill 10, where we have several batteries, and now and again the beaches. " C " Beach, on the other side of Lala Baba, over the bay, however, gets it far worse than we do. However, generally speaking, I do not think that the Turk fires as much as we do.

Well, I will continue the Diary: things cannot go on like this for ever, and the best thing to do is to accept the life as it comes and treat everything as a matter of course even shells. All of us who have been on here any length of time feel that our time to get hit will eventually arrive. Personally, I prefer the sledge-hammer blow from the unseen hand namely, a bullet from a rifle.

"

SOURCE:
J. Gillam, Gallipoli Diary, (Stevenage, The Strong Oak Press, 1989), pp.227-228.