HELLES - Lieutenant Joseph Vassal, Medical Officer, 56th Regiment. Brigade Coloniale, 1st Division, CEO - Whilst work was going on preparing the winter quarters, another type of war was beginning to mature at Helles; the underground war.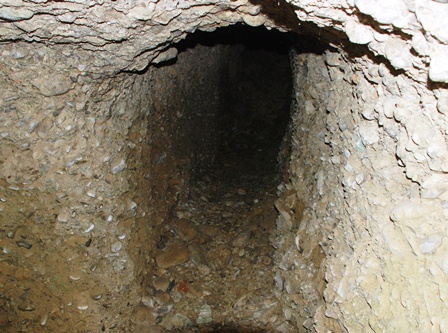 Photograph: A surviving 1915 mine gallery in Gallipoli.

There is no need to put one's ear to the ground to hear the sound of picks. At daybreak everyone went to listen to the picks: General Bailloud, colonels, majors, men. A new sensation, but a rather disagreeable one! A fresh method of warfare has now begun for us.

General Gouraud had feared it, but did not wish to be the first to begin. His successors were of the same mind. But now that the Turks had challenged us we must answer them. Time presses. At first it was a question of reciprocating by means of "camouflets", that is to say, laying the sap open after blowing up the retaining wall with dynamite. I think the counter-mine has been adopted.

"

SOURCE:
J. Vassal, Uncensored Letters from the Dardanelles (London: William Heinemann, 1916), p.189.