MUDROS - Private Cecil Malthus, Canterbury Battalion, New Zealand Brigade, NZ&A Division, NZEF - Private Cecil Malthus had been evacuated from Anzac at the end of August suffering from scarlet fever, and pneumonia - a nasty combination. After a period in the 1st Australian Stationary Hospital at East Mudros he was finally restored to health. On 24 October he wrote a letter describing how he had re-joined the Canterbury Battalion who were resting at the Base Details Camp, West Mudros.
P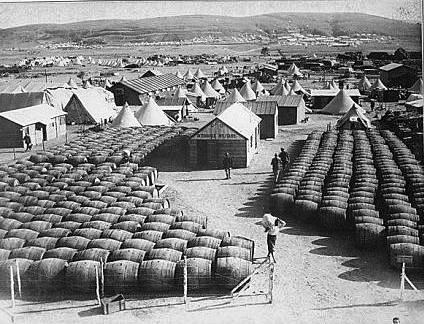 hotograph: West Mudros Camp, Lemnos Island with the tempting vista of the French wine store in the foreground.
"I am back with the Battalion, and my letters have been coming to them lately, so I ought to get some by the next mail. I am told there were dozens for me last week, but of course they were sent back to the base. I got out of that awful convalescent camp last Monday, but landed in one nearly as bad, the rest camp where all stragglers have to go to wait for their boats. Got across the harbour next day to another clearing camp, then my impatience ran away with me and I just bolted from there and came on here, being anxious for mail and pay and old friends. I have not got any mail or pay yet, and the old friends are not to be found, not one. However, the mail surely won't be long, the pay is due today - the first I will have handled for seven months- and if old Main Body men are scarce, I must say the latest reinforcements are a very decent lot. So I am glad I came, and provided we don't move off too soon I will pick up very quickly here. The food is good and there are well stocked canteens as well. We have only 4 hours drill as a rule, and have the afternoons free. We are in big marquees which hold about fifty men, a much more sociable plan than the bell tents. There are rugby matches and other recreations, and a good deal of singing in the evenings."
Photo from Internet site http://freepages.genealogy.rootsweb.ancestry.com/~blinkofamily/images/sb42b.htm.
SOURCE:
C. Malthus, "Anzac: A Retrospect" (Christchurch, Whitcombe & Tombs Ltd, 1965), pp.132-133,