SUVLA - Lieutenant George Davidson, 89th Field Ambulance, RAMC, 29th Division - Many of the men were beginning to eye the weather conditions with increasing suspicion and no little concern. On the 24 October Lieutenant Davidson had commented on a forecast.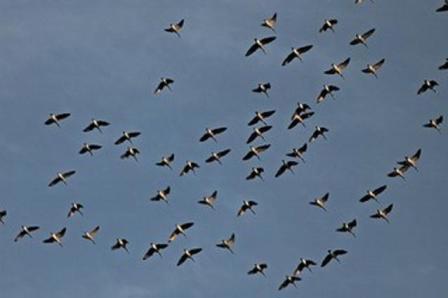 And so it was that on 24 October he wrote in his diary as follows.
"The above weather forecast was wonderfully accurate, the cold snap ran from the 19th to 24th. Yesterday opened rough, wet and cold, but later in the day the wind fell to an absolute calm and the temperature rose. Today is ideal, not a breath of wind, a few fleecy clouds, and delightfully warm. Geese are flying south in thousands. Where do they all come from? The lakes of Norway and Sweden, Finland and Northern Russia, or where? Their destination is no doubt that delectable country for the winter, Africa. Yesterday the A.D.M.S. thought I required a change and recommended me to go there also, but I refused absolutely. I prefer the hardships of Suvla and it may be the Balkans, to a life of ease and comfort in the hospitals of Alexandria. Had things not looked so bad here I might have accepted such an offer, but now that the outlook is as bad as could be, and the danger to ourselves gradually thickens, it is out of the question. Mackensen is said to be in Serbia and pushing south rapidly. He has an army of 216,000, while the Serbians can oppose them with only 80,000 or 90,000. French and British troops have been rushed north from Salonika, and we are in contact with the Bulgars, if not the Austro-Germans. All here expect to be ordered to the Balkans any day; at Suvla we are now being wasted, all we can do is to hold up the Turks which is not good enough."
SOURCE:
G. Davidson, "The Incomparable 29th and the River Clyde" (Aberdeen: James Gordon Bisset, 1920), pp207-208.