SUVLA - Lieutenant Owen Steele, Newfoundland Regiment, 88th Brigade, 29th Division - The weather was colder, but dysentery was still a problem for many of the troops. Lieutenant Steele had a very bad day on 23 October.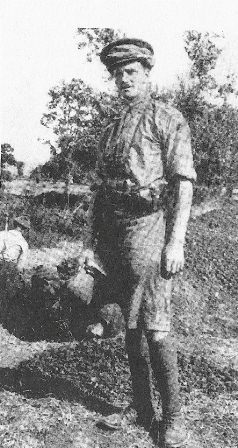 "Came off watch again at 1am and managed to get a little sleep until 4am when I took my watch again. I was feeling very poorly today but decided not to give up yet. I did not come off watch again until 1 pm when I was off until 'Stand to' (6.30pm). It will thus be seen that out of 25 hours I have put in 20 hours on watch or on duty. I hardly know how I stood it seeing that I felt almost sick enough to give up and being compelled to obey a 'call' at least once in every hour. However I had a good sleep in the afternoon. Had practically nothing to eat today, in fact, have eaten very little for the past fortnight - sometimes a slice of dry unbuttered toast for breakfast, a little rice for dinner and say, a little bread and milk for tea. Weather: fairly fine with a few showers - and cold."
SOURCE:
O. W. Steele (edited by D. R. Facey-Crowther)), Lieutenant Owen WIlliam Steele of the Newfoundland Regiment: Diary and Letters Montreal, McGill-Queen's University Press, 2002), p.83. Photo p.80.