Major-General Sir Charles Caldwell, Director of Military Operations, and Major-General Arthur Lynden-Bell, Chief of Staff, Headquarters, MEF - General Sir Ian Hamilton's replacement was General Sir Charles Monro - who was an entirely different kettle of fish. No 'happy' warrior, this was a hard practical man. Born in 1860 he had served in staff positions during the Boer War. He then had a lengthy spell as Commandant of the School of Musketry at Hyde and was promoted to Major-General in 1911.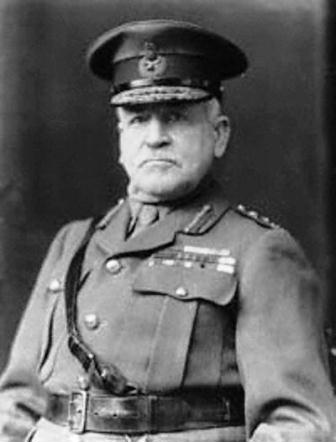 Photograph: General Sir Charles Monro
He had served in command of the 2nd Division on the Western Front, being promoted first to command the I Corps and then the newly formed Third Army in July 1915. Now given command of the Eastern Expeditionary Force, his Chief of Staff would be Major-General Arthur Lynden-Bell. They were to report on the overall military situation on the Gallipoli Peninsula with particular attention to the ramifications of the alternative possibilities of evacuation and another offensive. Before they left the Director of Operations, General Sir Charles Caldwell, sent them a warning note.
"Ian Hamilton's failure was to my mind to a large extent due to his disinclination to tell Lord Kitchener unpleasant things and I think he was backed up in this by Braithwaite. They did not insist on having what they wanted and invariably communicated in an unduly optimistic strain. I do not suggest that your Chief and yourself will adopt the same line, but I would urge on you not to hesitate before telling unpleasant truths in your wires to K. Especially I would keep on about the troops being so very short of establishment and the discouragement which this causes them. Remember also the time that it takes to get anything to the Peninsula from this country."
Although Churchill had lost his position at the Admiralty back in May, the unreconstructed dyed in the wool Easterner still made a last effort to influence Monro and Lynden Bell during their departure from Charing Cross railway station under somewhat comic circumstances on 22 October as recounted by Major-General Arthur Lynden-Bell, Chief of Staff, Headquarters, MEF.
"Everyone felt a bit under the weather at 6am and we were not cheered up by the appalling smell of beer exhaled by our servants who had spent the night 'celebrating'. Just as the train was about to start Winston Churchill rushed along the platform, threw a bundle of papers into our carriage and shouted, "Don't forger, if you evacuate it will be the biggest disaster since Corunna!"
SOURCE:
IWM DOCS: C.E. Caldwell, Letter to A. Lynden-Bell, 22/10/1915, IWM DOCS: A. Lynden-Bell, Typescript account, pp.1-2.