ANZAC - Major Edward Cadogan, Suffolk Yeomanry - Major Edward Cadogan was settling into the new rhythm of life at Gallipoli. It was only on 19 October that he heard of the departure of Hamilton.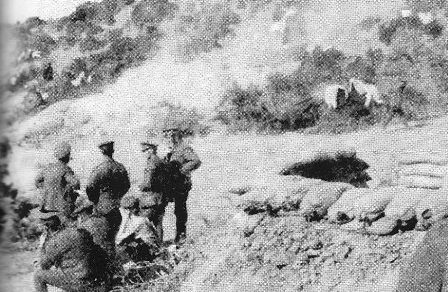 "We move down to what they please to call the rest camp of the Norfolk Regiment, a horribly exposed place. We have got much worse dugouts than up above and we are treated to some very nasty doses of shrapnel in the afternoon. I re-joined my squadron today. We hear that Ian Hamilton has gone and Munro has taken his place. As a matter of fact this happened some time ago but news percolates slowly up these gullies. It leaves an unpleasant sensation on our minds, this bowlering of the Commander-in-Chief. It cannot mean that all is well. Our meals down in this dump are very badly run and we have got nothing to eat. I am much struck here with the extraordinary calmness of everybody under adverse circumstances, although the majority are very melancholy. I have got a very bad dug-out, very unprotected from weather or shells and I find it almost impossible to fix a waterproof sheet over my unfortunate head. I manage somehow and after an apology of a supper crawl into my rabbit hole, light a talk lamp and read 'Pickwick' - the only book I have brought with me. Nobody seems to have got any literature at all on this Peninsula and as parcels seem to misfire the prospects for the library are not cheerful."
SOURCE:
E. Cadogan (edited by K. Charatan & C. Cecil), "Under Fire in the Dardanelles: The Great War Diaries and Photographs of Major Edward Cadogan", (Barnsley: Pen & Sword, 2006), p.51 Photo of Norfolk Yeomary Rest Camp, p.51.