ANZAC - Second Lieutenant Mehmed Fasih, 2nd Battalion, 47th Regiment, 16th Division, Fifth Army - Second Lieutenant Mehmed Fasih had already served at Gallipoli with the 47th Regiment at Anzac in May 1915. He had been wounded early on but by October was well enough to return to action. He rejoined his unit in the trenches on 16 October. They were under a considerable amount of fire on 18 October.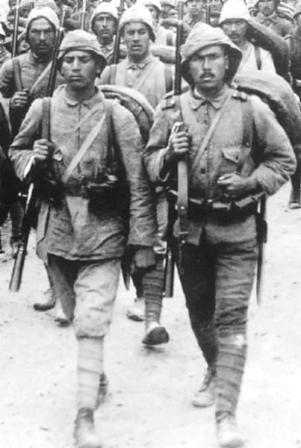 "07.00 hrs - Take over trenches on our left. They are fairly good but do need some improvements. In this sector we are out of grenade range. But on our left, we are exposed to machine-gun fire from Sungu Bayiri (Bayonet Slope). At noon, grenades start reaching us. But; not like yesterday. A few shells explode in front of our trenches. No casualties. Some howitzer shells whizz above us on their way to our rear. A few shrapnel shells with concussion fuses and howitzer shells hit our right wing. The enemy fires small land torpedoes (presumably rockets) at us. they shake the ground like mortar explosions, but their effect is nil. After sunset, realizing we were trying to improve our embrasures, the enemy lobs a few grenades at us. Most fall short or behind us, but one falls into our trench. Five privates are wounded - for nothing! We establish where the grenade came from and cover the spot with two sharp shooters. One raises his head to fire - and is instantly killed! 10.00 hrs - A powerful mine explodes on our right. We can`t figure out whose it was. An enemy destroyer is firing at our left flank, but the shells fall behind us. There is light rifle and machine gun fire. The bullets sound like grass-hoppers and bury themselves in our parapets. The battalion commander calls a meeting to discuss the condition of our trenches, In the evening, with an increase in enemy shelling, divisional headquarters orders an alert. The unusual smoke produced by the bombardment arouses the curiosity of staff officers there. Despite the alert, the night passes quietly. The enemy machine gun on Bayonet Slope keeps firing short bursts at our left flank. It is trying to prevent us from repairing the trenches it has already damaged. 24.00 hrs - That machine gun continues to fire. Thank God, we suffer no casualties. Machine-guns are firing along the entire front. A few grenades are lobbed at our right wing."
Photo from Australian Light Horse Studies Centre website http://alh-research.tripod.com/Light_Horse/index.blog?topic_id=1115526
SOURCE:
M. Fasih (edited by M. Culcu & translated by H. B. Dansiman, "Lone Pine (Bloody Ridge) Diary of Lt. Mehmed Fasih, Fifth Ottoman Army, Gallipoli, 1915", (Istanbul, Denizler Kitabevi, 2001), pp.17-18.