IMBROS - Sergeant Fred Garrett, 3rd Australian Light Horse, 1st Light Horse Brigade, Australian & New Zealand Division - The 3rd Australian Light Horse were still resting at Imbros on 17 October. Sergeant Fred Garrett attended church parade and found it not without amusement.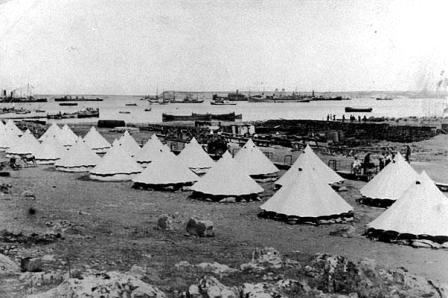 Photograph: Imbros camp.
"After breakfast thought it about time I had a wash seeing that I had none since Friday morning. No water available in camp. So had a ½ mile walk to a well and had a shave. Church parade compulsory. Hundreds of Tommies lined up. When they got the order "Form fours" and "right" the heels clicked as one. One of our fellows (50 or so of us), remarked, "My word they drill well. We couldn't do it like that and I'm not going to try!" Singing was very half hearted although they brought a harmonium into action towards the end. Two whiskered old chaps officiated, though the Dean of Sydney (a well built clean shaven chap with glasses) was there. One of them said he liked to see us merry and bright and the other thought it fitting we should partake of the communion afterwards as it would perhaps be our last opportunity - (cheering words). First Church Parade I have been on since commencing to be a soldier."
SOURCE:
the diary of Fred Garrett is to be found on the net on the Grants Militaria website. A good interesting diary: http://www.grantsmilitaria.com/garrett/html/oct1915.htm