ANZAC - Private James Martin, A Company, 21st AIF, 6th Brigade, Australian & New Zealand Division - Young Anzac Jim Martin, a boy of only 14 years of age, wrote home from Gallipoli. This would be his last letter.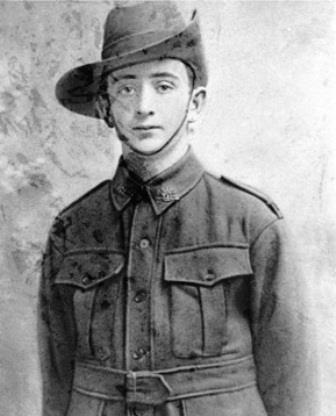 "Dear Mother & Father,
Just a line hoping all is well as it leaves me at present. Things are just the same here. The only difference we are experiencing a bit of rain which will be not welcomed by us. This place will be a mud hole when the rain does come. We had a bit of a shower last night but it was nothing to speak of.
According to an account of a Turkish Officer who gave himself up the other night says that the Turks are getting very badly treated by the German officers and are only getting one meal a day and that was in the evening. There was one Turk who tried to give himself up the other night and got shot by the sentry. We dragged him into our trenches to bury him in the morning and you ought to have seen the state he was in. He had no boots on, an old pair of trousers all patched and an old coat. The pioneers took him down the gully to bury him and one got shot in the thigh by a sniper in the Turks trenches. We are not doing bad for food we got that little present from Lady Ferguson [wife of the Governor-General] that was 2 fancy biscuits, 1 half stick of chocolate and 2 sardines each. I think I have told you all the news so I must draw to a close with fondest love to all,
I remain your loving son Jim."
On 25 October, seriously ill with typhoid, Jim was to die of heart failure aboard the hospital ship Glenart Castle. Jim was just 14 years old.
SOURCE:
A. Hill, Soldier Boy - The True Story of Jim Martin, The Youngest Anzac, (Penguin Books, Australia 2001), p.152.