SUVLA - Lieutenant Owen Steele, Newfoundland Regiment, 88th Brigade, 29th Division - The drip, drip of casualties never seemed to stop as Lieutenant Owen Steel recorded on 10 October.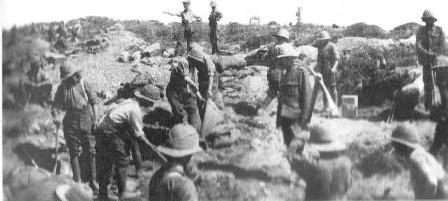 Spent today resting, more than anything else. Captain March and I spent a couple of hours with Major Drew in the afternoon, making plans a arrangements for the forming of the sap on our present right to that on our old right, thus completing our portion of the new line. At night (8pm) I went out with the Major, to show the Hants Regt., who were finishing the sap, what and how we desired the work done. When we first got there we met Lieutenant Ellis of the R.E. [Royal Engineers] who was with a Sergeant, laying a rope along the route to be taken. About ten minutes before, the covering party for the working party went out to take up its positions - the working party had not yet gone out. About ten minutes after the Major and I had been talking to Lt. Ellis his Sergeant came back saying his officer had been shot by one of our covering party - accidentally. We sent for a stretcher and as the trench was very narrow and full of sharp turns, the stretcher had to be carried at arm's length over the head. As the stretcher bearers could not manage it. Ellis being a heavy man, I took one end and Captain Alexander the other. I went all the way to the Red Cross hospital with the party - over 3 miles. The bullet went thro' the left side of his stomach about 3 inches from his side, and as he was quite conscious up to the time we left him 11.30pm - 4 hours after the accident - we thought he would eventually be OK, but heard later he died during the night. I did not get back to the firing line until 1am, and had to go out to the sap but soon got away from there again and got to bed about 2.15am.
SOURCE:
O. W. Steele (edited by D. R. Facey-Crowther)), Lieutenant Owen William Steele of the Newfoundland Regiment: Diary and Letters Montreal, McGill-Queen's University Press, 2002), pp.77-78.