HELLES - Colonel G H Edington, MD, the commanding officer of the 1/1st Lowland Field Ambulance, 52nd (Lowland) Division - Wild life in the Krithia Nullah was the order of the day! Edington writes his account for 7th October.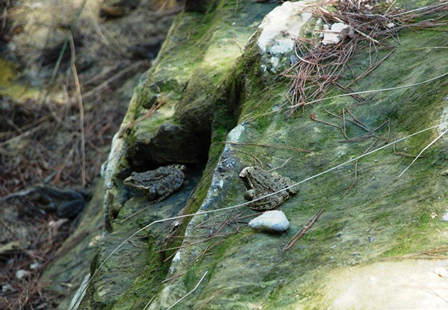 Photograph: With the French army gone, the Frogs today are thriving in the Nullah, photographed during a recent trip to the battlefield, 2011.
Temporary Lieutenants Fuller and J.C. Bell joined us on the 7th, and were welcome, as our strength in officers had reached a low ebb, and there was plenty of work to so in connection with remodelling of the posts on the Krithia Nullah.
Behind Clapham Junction post was a large pool, swarming with tortoises. The margins of the pool were somewhat abrupt, and when the little animals climbed up from the water their hind legs had to negotiate a fairly high step. It was interesting and amusing to watch them, the view from behind closely resembling that of a stout old gentleman in wrinkled, wide trousers going up stairs, with his legs well spread out. But to have a more or less stagnant pool of water in close proximity to the living quarters of our men was not to be thought of, and we had to fill it in with earth from the banks.
In addition to the tortoises, animal life was represented in the nullah itself by myriads of frogs. We didn't worry about them; but it was different with our Allies. On going up the nullah one afternoon I came upon a party of three poilus. Two, with their arms bared to the elbow, were exploring the evil-looking water and guddling in the rushes for frogs. as they brought the slimy creatures out they passed them to the third man on the bank, who promptly slung the catches on a wire, which he pushed in under the animal's jaw and through its mouth. In answer to my inquiries, they informed me that the frogs were intended as a delicacy for the officers' mess, at which the rump and hind legs were to be served "rôtis".
SOURCE:
G.H.Edington, 1/1st Lowland Field Ambulance in Gallipoli, (Macdougall, Glasgow: 1920), p.50.