HELLES - Ordinary Seaman Joseph Murray, Hood Battalion, 2nd Brigade, RND - Murray had been almost continually involved in mining activities in and around Gully Ravine. When 6 October came, it was time for a long earned rest.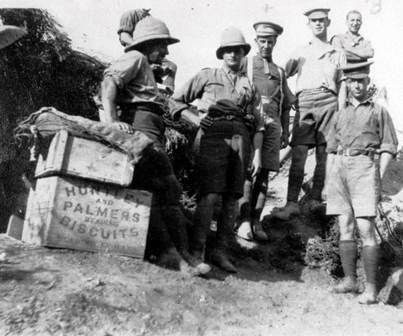 "Today we begin a bit of digging for our own comfort. We made funk holes much the same as those we had made in our original rest camp near the beach. They are about six feet long, two feet wide and as deep as you can manage to dig, mine is nearly three feet deep. My waterproof sheet placed over the top half and held down by lumps of rock and earth, give protection from the sun.
We have been very comfortable today. Tea was made for us and there was a good supply of Huntley and Palmer's cast-iron biscuits, apricot jam, and a piece of cheese that could not stick the jam any more than we could and repeatedly crawled away. In such pleasant surroundings, though, it was good to be alive and I feel better already. I feel human again; instead of having to burrow like a mole I can move about in the sunlight.
We have no fixed job to do. All of our meals, such as they are, are cooked for us and our conversation is becoming not only rational but interesting."
Photograph: Huntley & Palmer Biscuits at Gallipoli, copyright of Reading Borough Council Reading Museum. On the 12 August, 1914 the War Office gave Huntley & Palmers substantial orders to manufacture army biscuits; the hard-tack biscuit was born.
SOURCE:
Gallipoli As I Saw It, by Joseph Murray (William Kimber: London 1965), p.142-143.