Major Hans Kannengiesser, Commander 9th Ottoman Division - An Army Order of 26th July, opened with the words: "A large scale attack confronts us." It was a similar position to that of April. Kannengiesser, the Prussian commander of the 9th Division, and the rest of the Turkish army were expecting another attack in the form of a new landing by Hamilton. The question was, where?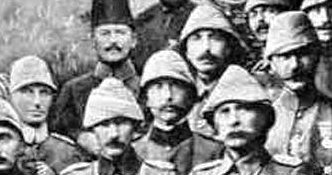 Photograph: Lt Colonel Mustafa Kemal (Atatürk) with his staff at Anafartalar/Suvla
 Major Wilhem Wilmer (middle row left) and Major Hans Kannengiesser (middle row,far right) at Gallipoli.

"It was possible to conclude that a simultaneous attack on the waterways of the Dardanelles would not again occur this time, because in such case the enemy landing army would have to do without the so welcome support of the ships' guns.

Possible, but scarcely probable, was the possibility of a fresh landing on the Asiatic side. Scarcely probable, because it was hardly likely that Hamilton would return to the earlier French plan. The Gulf of Saros and the Narrows by Bulair had lost nothing of their importance, and the Marshal [Liman von Sanders] therefore ordered the 7th and 12th Divisions into positions at these places."

Kannengiesser talks about other possible landing places, one being Kumdere, between Anzac and Helles. This area, if exploited successfully, posed a danger to the rear of the Southern Group who were holding back the British and French at Krithia. A successful landing here could also aid a possible Anzac breakout in the south at Gaba Tepe. To counter this threat both the 8th and 9th Divisions were placed here.

Everywhere the Turks were prepared, even to the north of Anzac at Suvla Bay with its large open Anafarta plain beyond. In the words of Kannengiesser, defending this area was "The circumspect and energetic Major Willmer ... and three battalions, one squadron and four batteries were given him for this purpose. Somewhat little for the far-reaching plain, but "only a knave gives more than he has".

"

SOURCE:
The Campaign In Gallipoli by Hans Kannengiesser Pasha (Hutchinson & Co: London 1927), pp.200-201.