Lieutenant General Sir Bryan Mahon, Commander 10th (Irish) Division - Mahon was originally favoured by Kitchener for promotion to corps commander; however Hamilton had thought he had reached his peak. With Mahon rejected and only employed as a divisional commander, he was not happy. As time would tell, passing over Mahon was probably going to be a costly mistake.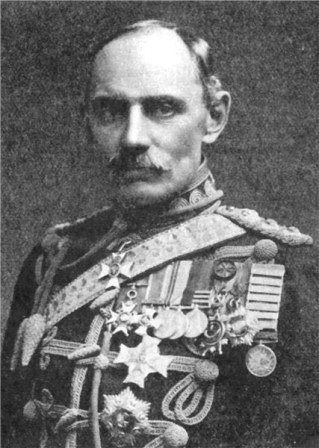 Photograph: Lieutenant General Sir Bryan Thomas Mahon, KCB, KCVO, DSO - Commander 10th (Irish) Division.
"Imbros. Hard at it. Mahon arrived at mid-day. Very cheery but he feels that he is the only Lieutenant-General executively employed with troops who has so small a command as a Division. He says that either he should be given a Corps, or that his Lieutenant-General's rank should be reverted to that of Major-General. I quite agreed. I feel as strongly as he does that, as a Lieutenant-General, he is clean out of his setting in a Major-General's appointment and has blocked the way to a go-ahead young Corps Commander, because that Corps Commander must, by K.'s decision, be his senior. Still, there didn't seem to be anything to be done, so after my telling him how things stood here, and hearing with great pleasure the fine account he gave me of his Irish Division, we adjourned to lunch."
As seen with the 'On This Day' entry for 22 July, the British Army at the time still used this much outdated practice of seniority, whereby the system placed its faith on date of the commission listing as opposed to evident talent. So, this left only two generals, Lieutenant General Sir John Ewart and Lieutenant General Sir Frederick Stopford. Hamilton ruled out Ewart due to his constitutional habit, stating that he would not last out here for one fortnight.
Hamilton wrote:
"With regard to Ewart. I greatly admire his character, but he positively could not have made his way along the fire trenches I inspected yesterday. He has never approached troops for fifteen years, although I have often implored him, as a friend, to do so."
So, by a process of elimination, this left only Stopford. Mahon remained displeased with the decision, despite Hamilton trying to ease the situation. The same issue would flare up again very soon.
SOURCE:
I. Hamilton, Gallipoli Diary, (London, Edward Arnold Ltd, 1920), p.31