U3A - Gallipoli Project June 2022
This is the fifth newsletter of the U3A Gallipoli project. I have summarised some of the material that was sent to me over a year ago.
Nigel Poole writes:
Robert Poole, my 18 year old uncle (my father's brother) fought in the campaign. I believe he was in the Naval Reserve. He was seriously injured and evacuated to Malta where he died of his injuries. He is buried in a military cemetery outside Valletta. On the 100th anniversary of his death I was able to visit his grave. I am the only relative to make the journey.
It is likely Robert was in the Royal Naval Division. This was an infantry division, formed in 1914, made up of RN reservists who were not needed to serve on ships. It served in Belgium, taking part in the siege of Antwerp. It was then transferred to Gallipoli, taking part in the initial landings in April 1915 and serving throughout the campaign. It suffered very heavy casualties.
Maureen Hession, writes:
My great grandfather fought at Gallipoli and I have a photograph of  B Company Wigan Manchester Regiment had taken two hrs before the battle on 4th June 1915. I also have a few documents about his time in the 1914/18 war. These were obtained a few years ago by a family member who looked into the family history.
This was the 1/5th Manchester Regiment, a Territorial battalion. It was formed of men who were part time soldiers before the war and volunteered for active service when war broke out. The territorial units played a key part in the first year of the Great War.  They landed in Gallipoli in May 1915 and went on to fight at the battles of Krithia, on the Helles Front. Needless to say, these attacks resulted in heavy casualties, for little gain. The Territorial companies were based in different towns. B Company were based in Wigan. The battalion went onto serve with distinction in the Middle East and the on the Western Front. As casualties mounted the original Territorials were replaced by conscripts.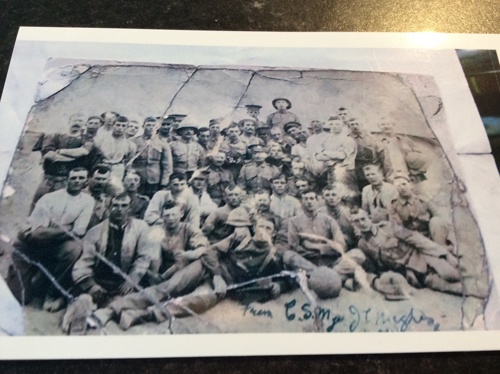 A fantastic photo. I wonder how many of these men survived the war.
John Powell writes:
My late grandfather, Lieut. Percy J Powell, who saw service at Sulva Bay, Gallipoli towards the end of 1915. Although a Brummie all his life (and a life-long West Brom supporter) he was in the Manchester Regt. which I think might have come about because of some Sutton Coldfield Territorials' connection. From the attached it appears he embarked for Turkey at the end of September 1915 and after quite a short time ended up being invalided home, I suspect through illness rather than injured in action, on the RMS Aquitania on Christmas Eve after first spending some time in an Australian Military Field Hospital. After recovering in Birmingham he then joined the Royal Flying Corps and was based just north of York where he met my grandmother. By chance they ended their days living at 12 Swanshurst Lane, Kings Heath.
It was not unusual for Territorials to volunteer for other regiments when war broke out. It was not at all clear that Territorials would be sent abroad in August 1914, so many joined the thousands that were volunteering for regular regiments, as a result of Kitchener's call.
Lesley Dunlop writes:
My grandfather, Reginald William Parrish, was with the 2nd Battalion (City of London) Royal Fusiliers, policing the Empire in India when they were recalled after World War I broke out.
He was one of the first to land on X Beach on 25 April 1915 and was shot on that day.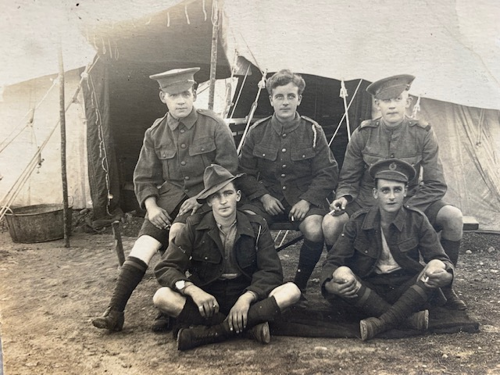 William at convalescence camp in Malta. He is in the middle back. Note the cigarettes!
I am currently working on a book, 'Two Lives, Two World Wars', that will relate his life and military experiences and those of my father (RAF, SEAC); the latter was well known in Watford as a local historian and filmmaker. I have spent time researching the Gallipoli Campaign and also have my grandfather's first-hand account of his experiences there. Like you, in my small way I am keen to spread knowledge and understanding of the campaign.

My husband and I spent a memorable week in Gallipoli, visiting key sites, battlefields and monuments and, of course, X Beach. The book will document the campaign's impact upon those, like my grandfather, in the 29th Brigade and also present a 21st century impression of the hauntingly beautiful peninsula.

We subsequently visited Malta to see all the related WWI sites, as my grandfather was taken there from Gallipoli as a casualty. Then, after time at the Dover Garrison and Summerdown Camp, he took part in the Spring Offensive on the Western Front.

There has been much to investigate and research and I am around two thirds through writing the book. Details are on the blog of pastdayspublishing.com which currently supports my father's Echoes of Old Watford, Bushey & Oxhey, of which I was editor.
The 2nd Battalion (City of London) Royal Fusiliers, were part of the 29th Division. This was the only regular Division to serve in the Gallipol. As Lesley writes, they landed on the first day and fought and went onto fight in some of the fiercest battles in the campaign and were amongst the last to be evacuated. They were known as the "Incomparables". They suffered very heavy casualties on both the Helles and the Suvla Fronts.
Wilma Gough writes:
My great-uncle, Thomas Hamilton, emigrated from Scotland to Australia before WW1 and volunteered to enlist as soon as the call was made (much to his fiancee's horror). He fought at Gallipoli and survived - he then went on to France where he was badly injured. He returned to Sydney, married and had two daughters, and took up fruit-farming and oil painting. It is 30 years since I visited one of his daughters in Sydney and saw a diary that Tom had kept, illegally, during the war. One thing which sticks in my mind is that at Gallipoli, to give the impression that there were more soldiers than was true, they rigged up guttering and ran water along it to make untended rifles fire remotely - I think the weight of the water would tip the gutter and pull down on a wire attached to the trigger. Ingenious.
My relatives died a long time ago. I believe they intended that the diary would go to a museum.
The Gallipoli Campaign is often remembered for the role of the ANZAC troops. Many of the Australian and New Zealand troops were actually first generation immigrants, born in the U.K. Thomas recounted some of the clever methods Allied soldiers used to convince the Turks there were more troops than there actually were. This was during the evacuation of the peninsula in December 195 and January 1916. Ironically this was the best managed part of the campaign.
Gill Boardman writes:
In working on my family history and exploring my Grandfathers military career, I came across the information about his brother, my Great uncle. His name was Charles Thomas Whelan and it would seem he only survived a few days when sent to Gallipoli.
The Royal Ulster Rifles Museum in Belfast seemed to have a lot of information about Gallipoli and the role of soldiers who volunteered from Ireland.
I had been in Wellington some years ago when there was an amazing and moving exhibition about Gallipoli at the Te Papa museum. It certainly brought to life the terrible hardship of the soldiers.
Charles parents lived in Dublin  but served in the 1/6th Royal Welsh Fusiliers. He may have been living in wales at the time, as this battalion was a Territorial Battalion based in Caernarvonshire and Anglesey. Again, in 1914, it was not unusual to travel across the country, or even between countries to volunteer. Volunteers were often placed in Territorial units that they had no connection with.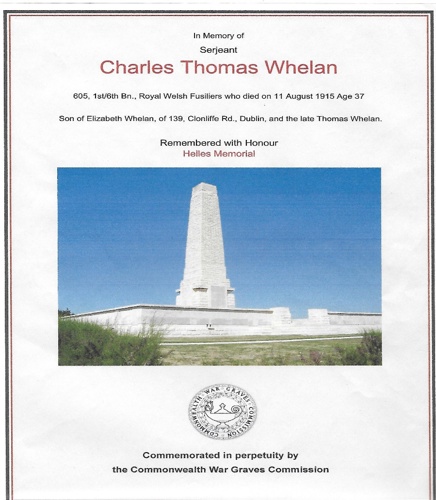 Geoff McMillan (New Zealand U3a) writes:
(At the time Geoff was "marooned" in the U.K. due to the pandemic!)
I don't know about what importance Gallipoli has in the British memory bank. It certainly figures very much still in the family memories of Australians and New Zealanders. ANZAC Day 25th April is still observed sincerely in both countries. Seen as a 'baptism by fire,' or a sort of 'birth of the nations.' Of the Allied nations, NZ had the highest deaths per capita. In 1914, the population was around one million. Just over 100,000 served, with deaths of neatly 19,000.
My oldest Uncle, Hugh McMIllan, sailed with the First NZ Echelon for France in October 1914.
Gallipoli was probably the only WW1 campaign that soldiers took their own photos. Kodak sold a special forces model. It was said in jest that more Australians were shot by Turkish snipers on day one taking photos, than when landing! Many of these photos still exist. Diaries became the record keepers on the Western Front and many of these are still being transcribed by families.
My uncle landed at ANZAC Cove around noon on 25th April. The initial landings were made by Australians. Uncle Hugh and part of his regiment were later deployed to a joint attack at Cape Helles. A machine bun bullet hit a rock and a splinter hit him in the eye. That was the end of his war and he was back in NZ by October 1915. He did not keep a diary and died in 1932 of TB, possibly caught in Gallipoli.
I became aware of the 100th Anniversary commemorations planned for Whitehall on 25th April 2015 and applied to march. I was selected. Quite an experience.
ANZAC Day in Melbourne and Sydney are incredible events. I was in Melbourne in 1982. The parade then took nearly three hours to pass. As Oz has had a lot of immigrants from Europe since WW2, the parade included Allies and Axis veterans, many proudly bearing national banners and wearing uniforms. The saddest aspect was the sights of lots of young chaps queueing outside the central city RSL (the equivalent of the British Legion) waiting for the bars to open.  They were Vietnam vets, not allowed to march in those day and they were conscripted!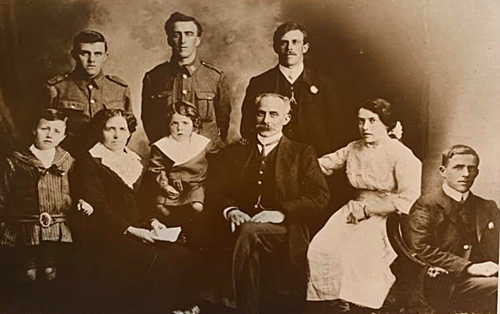 My father's family October 1915.
Back row. Samuel Albert. James Hugh, William
Front Row at left...my father Tom McMillan Far right...Charles Robert
Sam enlisted underage in older brother Willie's name. He arrived in Egypt on 39 December 1915. It was deemed a war zone, so he was awarded the 1914/15 Star!
Hugh went with the First Echelon in October 1914. Wounded Gallipoli and repatriated to NZ Aug 1915
Willie was never called up. I guess he was already serving by Army records!
Charlie was added to the family photo, which is why he is sitting the way he is. He arrived in the NZ Rifle Brigade camp near Stafford in late 1918. He died of influenza on 7th  November 1918 along with 73 other NZ soldiers.
A number of New Zealand units were stationed at a large camp on Cannock Chase. I would recommend a visit to the museum there. German prisoners were also kept there, many of whom also died of influenza.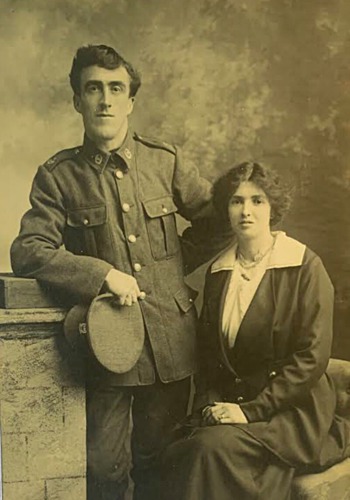 Uncle Hugh and new wife just after his return, 1915
One of the other U3A members, Jocelyn Clasby, very kindly sent me  photo of a monument  she came across this plaque in Frampton parish church when doing some family history.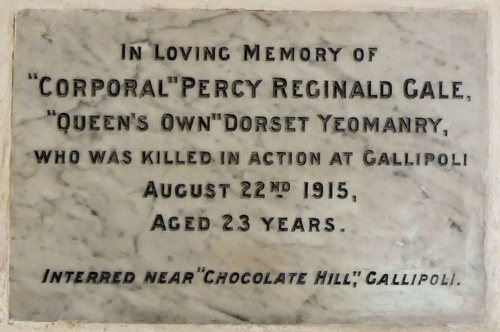 The Dorset Yeomanry served as dismounted infantry in Gallipoli and suffered high casualties on the Suvla Front.
Going through the emails which were sent during the pandemic a number of U3A members offered to
Send me more material. I may not have responded and said yes but I always welcome more material. I would not like to be sent originals, only copies. If you want to end me any more by snail mail drop me an email and I will send you my address.
Meet me to tell me more. I would love to do this, meting for a coffee or even something stronger! I live in Birmingham but am willing to travel. If you are keen to do this, again, drop me an email.
A number of the U3A "Gallipolians" have produced books on their relative or are in the process of producing books. If this is you then the

inaugural Gallipoli Association book competition may be of interest to you.
The President's Book Award 2022
The Gallipoli Association is seeking to recognise and reward historians who have produced their own book on a relative who served in Gallipoli or based on research on their local community. To this end the GA are launching a competition for the book of the year 2022. We know there are already many in existence, so for this first year, recommendations will be accepted for books published over the last decade.
1st Prize: a cash prize of £250
2nd Prize: £50 plus free entry to the Gallipoli Association Conference, to be held in London in 2023
3rd Prize: membership of the Gallipoli Association
All entries will be displayed at the GA Annual Conference at the end of September 2022. Judging and the announcement of the winner will also take place at this event.
Authors who wish to enter their book or books, for this competition, should in the first instance email Ian Binnie, the GA education Co-ordinator, on education@gallipoli-association.org giving brief details of the publication(s).
Finally, you will be aware that The GA hold free Zoom talks each month. You may be interested in the next one.
Ian Binnie