U3A Gallipoli Project – December 2022
Here is the sixth newsletter of the national U3A Gallipoli project. I cannot believe that the project has being going on for almost two years. Remember it began in the depths of lockdown. I have found it fascinating. Over 80 U3A members responded, many sending me some real jewels. Details of over 50 have been included in these newsletters. These newsletters are put on our website and sent to all of our members, through our electronic newsletter. Some of the material has been displayed at Gallipoli Association events. The feedback I have received has been excellent. As I am reading the responses I notice that some members have offered me more material. I may have neglected to take you up on this.  Apologies for any oversight on my part. Any members wish to send me additional material are welcome to do so.
As part of this project I have organised a number of Zoom sessions. As we are back to the dark nights I thought I would put on another one. This will be on Tuesday 13 December at 7.30. I will be doing a presentation entitled "Gallipoli in 13 objects". It is aimed at those who have limited knowledge of the campaign. There won't be a huge amount of detail but I hope to give those who join an overview of the campaign and an understanding of the conditions that soldiers fought under. Here is the link. It will be great to see you.
Finally may I take this opportunity to wish you a Merry Xmas and a Happy New Year.
Ian Binnie. 1/12/22.
---
U3A member Ida Brown wrote
I have attached a copy of a letter may be of interest to you. It was sent by my Grandfather, Henry William Terry, to his Father and I assume it was about 1914 when he wrote the letter. As you can see it is on YMCA headed paper and its not vwery clear but I think the address says Branton Camp Nr Stafford. At the end he asks for Lens address. Len was his brother but sadly he also died in WW1. He makes reference to a German internment camp nearby. He also refers to a "sham battle".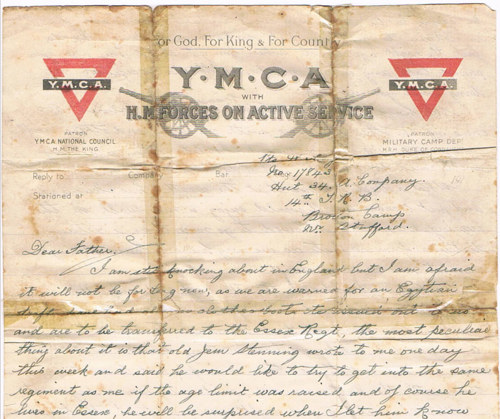 The camp was actually Brocton Camp on Cannock Chase. We know a lot about it because of the work of local historians and volunteers. British troops were billeted at Cannock during the war, including…. German prisoners were also kept there and New Zealand troops prepared for the forthcoming battle of Messines there.  Germans and British Empire soldiers alike suffered from the influenza epidemic of 1918. Henry writes that he was being transferred to the Essex Regt. The 1st Battalion saw service in Gallipoli, as part of the 29th Division. They were involved in a lot of fighting during the campaign and went on to serve with distinction on the Western Front.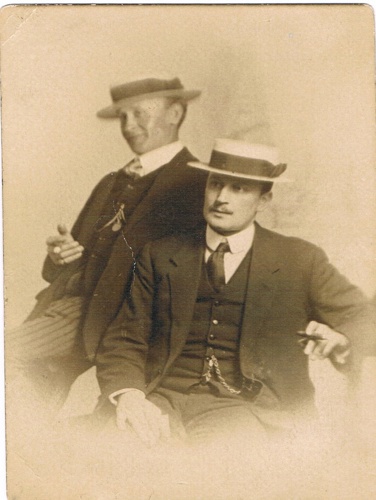 Henry William Terry and a friend, before the war.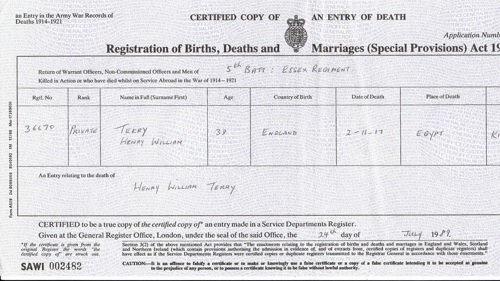 Henry William Terry's death certificate. Note that he died in Egypt.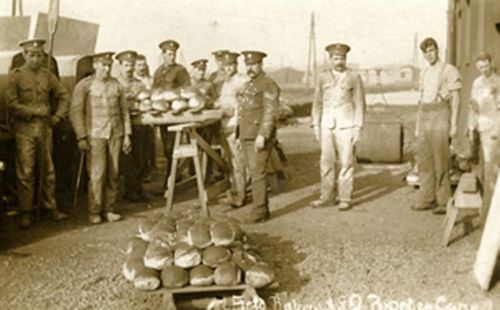 British soldiers on Cannock Chase during WW1 (image Birmingham Post)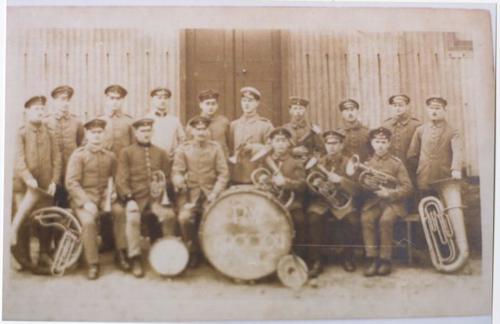 German prisoners at the camp on Cannock Chase (image www.search.staffspasttrack.org.uk)
---
David O Brian wrote:
Both my grandfathers served in the Gallipoli campaign. It was not a subject that was discussed in front of me and sadly I never asked about it. However I now have my parents documents which includes press cuttings, a few photographs, one taken at Galllipoli and some in Mesopotamia. 
There was also a letter written in Chinese which my son had translated by his pupils. It caused him some embarrassment as it described how awful the conditions were at Kut and how badly the Chinese felt they were being looked after.
I have read about the Gallipoli campaign and also about GeneralTownsend's military invention in Mesopotamia which ended in disaster at Kut. My grandfather, Charles, was in charge or had a senior role in the military hospital and volunteered to stay behind to treat the sick and wounded. The Turkish doctors agreed to all his patients being transferred to a hospital boat. So as there were no patients he left with them on the last boat out of Kut.
In 1914 he was 25, working as a junior hospital doctor in the Chesterfield Royal Infirmary. He was romantically attached to my grandmother, who liked playing golf and tennis. She worked for the Red Cross during the war and kept all his letters and the press cuttings of the campaigns. On volunteering for the army he was appointed as a temporary Captain in the RAMC. He was wounded at Gallipoli organising the evacuation of casualties. Despite his wounds he continued to supervise the stretcher bearers and for his bravery he was awarded the M.C.
He returned to Chesterfield in 1919 and married my grandmother. He worked as a GP and as an anaesthetist there until ill health forced premature retirement in 1944.
I inherited a Turkish shell from Chesterfield, which is now in my living room.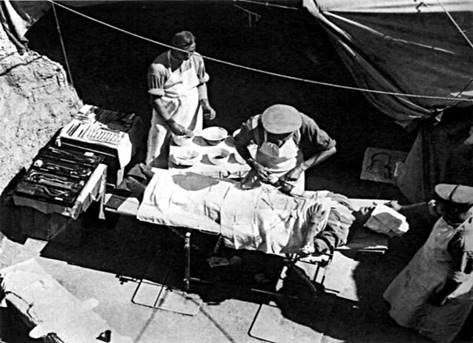 RAMC surgeons working on the battlefield in Gallipoli (image IWM)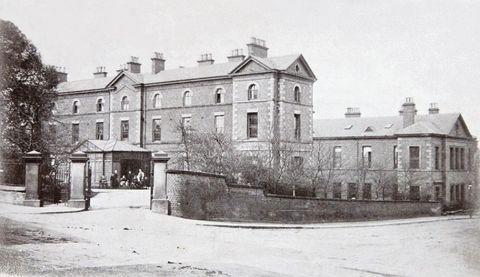 Chesterfield Royal Infirmary (image Achesterfieldblogger.co.uk)
The Siege of Kut was one of the greatest defeats of the British Army in WW1. Kut is in the present day Iraq. British troops, including many indian soldiers seized it but then were besieged by Turks. After a long siege, where there were a number of unsuccessful attempts to relieve them, almost 8,000 starving soldiers surrendered.  Many died in captivity, not because of deliberate action by the Turks but due to neglect and poor provision. Kut was recaptured by a much larger British/Indian force the following year.
William Craig, my mother's Father was 17 in 1914. He came from Glasgow and volunteered to join the army. He joined the Cameronians as a private soldier. He rose through the ranks and was in no time a sergeant. From the history books I gather the Cameronians were virtually wiped out at Gallipoli. He was a great raconteur but never told any stories about his military life in my presence. After Gallipoli he was transferred to the Indian army where he was commissioned as a captain. In 1919 he returned to Glasgow and enrolled at the medical school.
The Cameronians were originally a regular rifle regiment of the British army raised in the lowlands of Scotland. In the early 20th Century a number of Territorial Battalions were formed. When the First World War broke out many of them volunteered to serve abroad. The 1/5th, 1/7th and 1/8th served in Gallipoli as part of the 52nd Lowland Division. They fought in a number of key battles on the Helles Front, suffering heavy casualties in June 1915.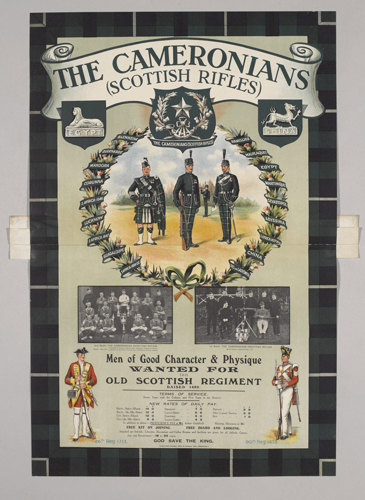 A 1914 recruitment poster for the Cameronians (image National Army Museum online collection)
---
Robert Tomlinson wrote
I am 81 years old and my father's brother, George Frederick Tomlinson fought and was killed at Suvla Bay on October 2nd 1915.
My wife and I have discovered several facts about him via Ancestry enquiries and I have various aspects on file about him via the Ancestry web site etc. These include his photograph alongside a portion of his obituary in the local Northampton newspaper on 1925.
He was a private in the 1/4th Northamptonshire Regiment and was 34 and single when he fell at Suvla Bay. His grave is at the 7th Field Ambulance Cemetery.
One possibly interesting fact is that on his gravestone in the war graves cemetery in Gallipoli his initials are those of S. F. Tomlinson not G.F. Tomlinson. My wife and I noticed this and contacted Commonwealth War Graves Commission about it. We managed to prove via his birth certificate and other evidence that an error had occurred in originally  preparing the grave (quite understandably in the chaos at the time)
We subsequently received a confirmatory letter from CWGC thanking us and saying that the initials error would be corrected by them as soon as convenient.
I can supply you with a photo of this as well if you wish.
In April, 2015 my wife and I applied for and received tickets to attend the 2015 commemoration service at the Cenotaph, London on the 100th anniversary of the Gallipoli Campaign which we found very moving and very impressive.
The 1/4th Northamptonshire Regiment was a Territorial battalion that landed at Suvla Bay in August 1915. As part of the 54th (East Anglian) Division it suffered heavy casualties in fighting later in that month. October was a relatively "quite" on the peninsula, although there was a steady stream of casualties from Turkish fire and even more form dyssentry that was sweeping through both armies. It is not unusual for mistakes to be found on gravestones. The first burials had a simple wooden cross. Many of these were used as firewood during the terrible winter of 1915-16. It is not surprising that mistakes were made.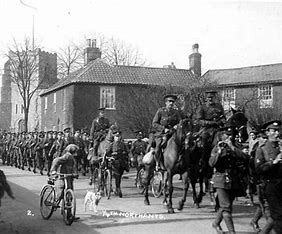 Men of the 1/4th Northamptonshire Regiment going off to war Gallipoli (image Northampton Museum Service)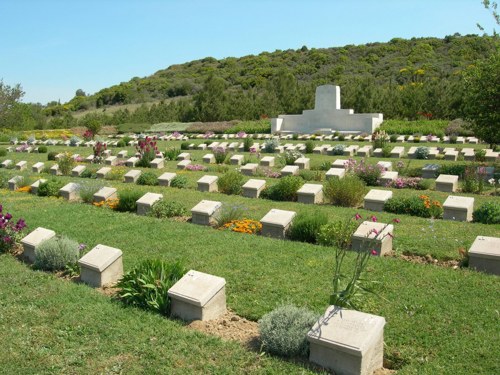 7th Field Ambulance Cemetery (image CWGC)
---
Roy Wooton wrote:
My maternal grandfather, Percy Clarke, was born on 12th February 1888.  
Some years ago I discovered from the Absent Voters list for his address at Clark Street, Ladywood, Birmingham, that Percy was a Private in the 1st South Midland Mounted Brigade Field Ambulance.  At that time I was aware that he had been in the Army during the First World War and had served in Egypt and Palestine but knew nothing further.
More recently I discovered from the internet that the Brotherton Library at Leeds University held a pamphlet in their 'Bamji' collection entitled "With the 1st/1st South Midland Mounted Brigade Field Ambulance Unit:  Egypt, Palestine, Gallipoli and Salonica.   1914 – 1918".
The pamphlet consists of approx 66 pages and appears to be based on a unit diary but no author is named.
Obtaining a photo-copy of this pamphlet and together with his medal card I discovered that my grandfather was with the Brigade when it was mobilised on 4th August 1914.  After service at various places in the UK the brigade left Avonmouth on the 11th April 1915 and that after a short break at Malta the unit disembarked at Alexandria on 24th April.
The pamphlet mentions the unloading of the Gallipoli wounded at Alexandria on 30th April 1915. The unit  (but not including my grandfather) was at Gallipoli from August 1915 to December 1915 and their experiences are detailed in the pamphlet.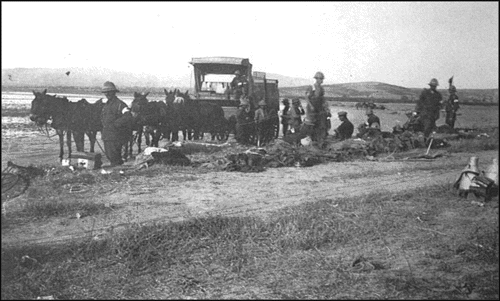 A field ambulance in Gallipoli
---
Susan Richards wrote:
My maritime ancestor was involved from January 1915 until 2 months after the withdrawal of troops in March 1916.  He engaged on mine sweeping duties in the Dardenelles Strait.  My great-grandfather, Alfred Swain, was a Hull trawler skipper and member of the RNR from 1913. For his actions, particularly in March 1915, he was awarded the Distinguished Service Cross.  He was discharged from Gallipoli two months after the withdrawal of troops.  He then became Chief Skipper serving in the Dover Patrol, again on minesweeping duties, and  demobilised in 1919.
Unlike stories of under age men joining up, Alfred was in fact too old!
His war service records shows him 2 years younger than he actually was. I do have his photograph in Royal Navy dress with medal, war service record and notes.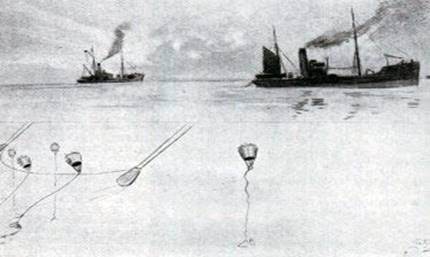 Trawlers used as minesweepers in the Dardanelles (image British Battles website)
The Gallipoli campaign was originally conceived as just a naval campaign. In March 1915 the Allies launched a large scale naval attack. The aim was to force a way through the Dardanelles and then bombard Constantinople, the Turkish capital. The Allied leaders believed that this would be enough to induce the Turks to surrender. They knew there were enemy mines in the Straits and sent in minesweepers. Some of these were converted trawlers. They were unable to remove all of the mines due to heavy fire from the Turkish shore batteries. A number of Allied ships were sunk or seriously damaged and the attackers turned back. The Turks still celebrate their victory every year on March
---
Bob Baker wrote
I have read with interest, your article in the February edition of Third Age Matters.
Our grandfather, Private David George Dunlop, was killed at Gallipoli on the 16th August 1915. He was a member of the 5th Battalion Royal Irish Fusiliers.
Together with my sister we visited the battle ground on the 100th anniversary of his death.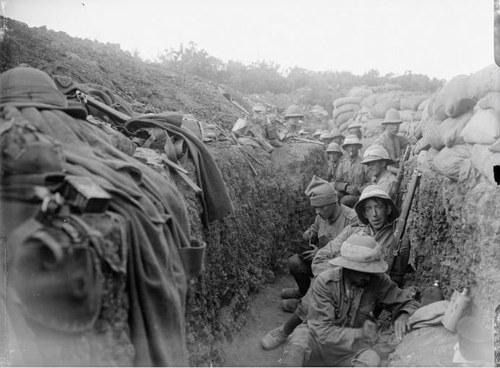 Royal Irish Fusiliers in the trenches at Gallipoli (Image RTE online)
The 5th Battalion RIF was a service battalion i.e. it was made up of volunteers responding to Kitchener's call. It formed part of the 10th (Irish) Division. This was a quite unique division, being made up of both Catholics and Protestants. The battalion landed in Suvla in August 1915 and, along with the rest of the Division, suffered heavy casualties. It moved to Salonika in October 1915.