ANZAC - Private Percy Smythe, 3rd Battalion, 1st Brigade, 1st Division, AIF - Smyth was gradually getting used to his new life with the 3rd Battalion, AIF. They were in a state of constant alert fearing a Turkish attack.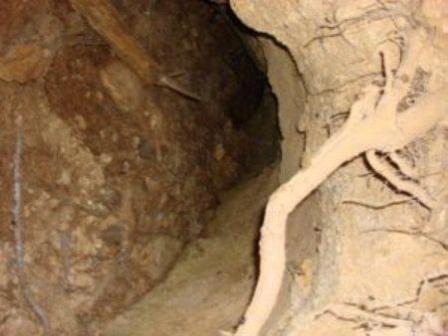 Photograph: A tunnel at Anzac as it is today.

"After breakfast we fell in and marched off to the support trenches, leaving our packs at the parade ground. We passed a dead Turk in a stretcher. It appears they attempted an attack last night, but were noticed in time and driven back into their trench by rifle and machine gun fire. Two, however, got over to our trench and one of them was killed and the other captured. Went for a stroll round the trenches. In one place a lot of half decayed bodies could be seen through a periscope. They were only a few yards away. Went into the firing and looked through the periscope at the Turks' trenches, which were only 3 or 4 yards away. A couple of saps were being tunnelled in under their trenches in order to blow them up. Went on a bit further and fired six rounds through a periscope rifle at a sandbag on a Turks' trench about 60 yards away, and broke the top of it away. Went back and down in to a trench where there was a machine-gun position, from which a rather pretty view of sea and land could be obtained. Was afterwards told off to carry dirt from the tunnel to where they were throwing it out over the parapet. Had scarcely started when it was dinner time. There was a dead body under the parapet just above where I had to sit for dinner, and a lot of maggots kept dropping down into the trench. I was afraid of them falling into my tea or stew. The effluvia was not too pleasant, and the flies swarmed round the food in thousands, and persisted in sticking themselves in the jam. After dinner, started on the dirt carrying again. A lot of the 7th. of the 3rd. chaps were sent up from the Gully, and were put on to pulling down the sandbags from in front of several resting positions in order to make observation posts of them. While doing so, they rooted up several rotten bodies. They may have been Turks, and they may not. Went down into the tunnel to have a sleep. The place reeked with the smell of decaying bodies, but it didn't stop me from having a few hours good sleep. We had rice and raisins for tea. It looked rather dirty and unwholesome, and tasted little better. Some maggots were crawling up a tea dixie just in front of me, and it nearly made me sick. At 7p.m. our platoon had to go on duty, and I went on with Sjt. McGregor. We had to guard the tunnel, doing 1/2hr. on and 1 hr. off, in pairs, and had to patrol it every 10 minutes, walking right down to the new machine-gun position, and prodding round with a bayonet to make sure nobody was there. Parker and I were on together. It was pitch dark in the tunnel, which twisted and turned all ways, and we had to feel our way along."

"

SOURCE:
Internet The World War I Diary of Percy Smythe, http://www.smythe.id.au/diary/index.htm This diary was transcribed by his daughter Betty Smythe.