ANZAC - Charles Bean, War Correspondent, Headquarters, MEF - On October 28 the Milo was sunk to form a breakwater just off North Beach, Anzac. This was witnessed by Charles Bean who only wished they also sank the Aragon, the reportedly plush headquarters for the Lines of Communication staff who lived in luxury compared to the men in the trenches.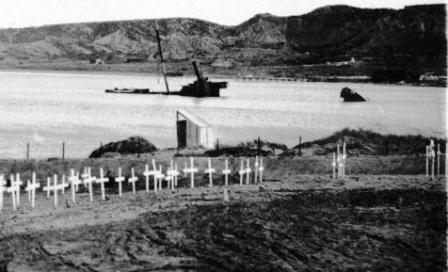 Photograph: The wreck of the Milo in the 1920's. the foreground shows Ari Burnu Cemetery. Photo from the Stephen Chambers collection.
"They have brought in an old steamer (the Milo, I think) and sunk her off Walker's Pier [at North Beach] with great success. There is a hot southerly half-gale blowing. The beach is rough to the south of her, but the water inside her is quite passable. She doesn't fill the gap. I suggested they might bring in and sink the Aragon to fill the gap. Howse says it would be worth it from the enthusiasm that would arise on shore when the fat brigadiers and languid DAQMGs were being chased from one end of the deck to the other with Turkish shells … "
SOURCE:
C. E. W. Bean quoted by K. Fewster, Gallipoli Correspondent: The Frontline Diary of C. E. W. Bean (Sydney: George Allen & Unwin, 1983), p.220.