ANZAC - Second Lieutenant Mehmed Fasih, 2nd Battalion, 47th Regiment, 16th Division, Fifth Army - Second Lieutenant Mehmed Fasih began his diary entry for the day by describing the mornings exchange of shell fire; the Turks shelling Lone Pine and Popes Hill, whilst the Anzacs were shelling the Turkish trenches. All of a sudden there was a commotion in the area.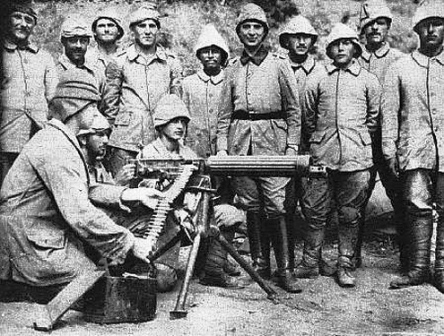 Photograph: Turkish troops at Gallipoli with a captured British Vickers Machine Gun.
"A group of agitated soldiers approach our camp. Ask them what had happened. Mahmud Can has been hurt. He has injuries to an arm, a leg, his chest and face, and he is encrusted with sand. Run over and cut off his boots, pants and socks. The poor fellow is in bad shape, but being brave. We bandage him up and send him to the rear. His foot and arm are seriously hurt. He was hit during the relief of a machine-gun crew."
After he is taken away Mehmed Fasih and a fellow officer go to inspect the damage. Ironically the machine gun position that was destroyed by Anzac shelling housed a captured Vickers gun, probably taken during the August Offensive, that the Turks had been using.
"The gun is fired from a narrow slit facing the enemy. As if tossed in by hand, an enemy shell penetrated the position from this aperture. The carnage it caused is awful. Six dead lie there. Dismembered, parts of their bodies are intermingled. Blood has drained out of bodies, and chests and arms look like wax. Shins and legs, seared by the explosion, are purple. Some bones have been stripped of flesh. The men's features are unrecognisable. Pitch black …
The horror of what I saw remains before my eyes."
SOURCE:
M. Fasih (edited by M. Culcu & translated by H. B. Dansiman, Lone Pine (Bloody Ridge) Diary of Lt. Mehmed Fasih, Fifth Ottoman Army, Gallipoli, 1915, (Istanbul, Denizler Kitabevi, 2001), pp.31-32.