SUVLA - Lieutenant Owen Steele, Newfoundland Regiment, 88th Brigade, 29th Division - The weather improved a little on 30 November but it was still bitterly cold. By this time many of the units were reduced to a skeleton force as Lieutenant Owen Steel discovered.
P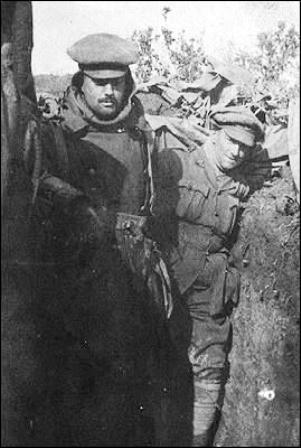 hotograph: 'B' Company in front line, Suvla Bay, 1915. Captains Alexander (left) and Nunns (right). Courtesy of the Provincial Archives of Newfoundland and Labrador (PANL VA-37-1), St. John's, Newfoundland.

"Spent today in drawing up new Platoon 86 Company rolls and recording in my Field Note Book a complete list of the men, their physical condition, and all deficiencies of rifles, bayonets, the various parts of web equipment and outside and inside clothing etc.. This took up all day. A summary of this list I then handed to the Quartermaster. All the well men of my Company had to go to the firing line tonight and also of "D" Company and I myself had to go in and act as officer commanding of the firing line thus occupied. "D" Company was asked to detail also a subaltern so I had Lieutenant Reid with me. We had only 36 men and 10 NC0s to hold the line for this was all the well men we could get, whereas we used under normal conditions to have a total of about 100. Everything went OK until 5 o'clock in the morning when one of the sentries was shot in the head death being instantaneous. I was at his side in 3 minutes, but he was dead. Jim, who was Sergeant in that vicinity, was nearby and helped place him on the firing step immediately it happened and then sent for me - he says he was dead even then. The Turks did quite a lot of sniping tonight, in fact since 'The Flood' they have been doing much more than usual during the nights."
SOURCE:
O. W. Steele (edited by D. R. Facey-Crowther)), "Lieutenant Owen WIlliam Steele of the Newfoundland Regiment: Diary and Letters Montreal", McGill-Queen's University Press, 2002), p.978.