ANZAC - Second Lieutenant Mehmed Fasih, 2nd Battalion, 47th Regiment, 16th Division, Ottoman Fifth Army - The weather was steadily deteriorating. Life at Gallipoli was posing a whole new set of challenges for the long suffering troops. Second Lieutenant Mehmed Fasih was in the Turkish trenches at Anzac.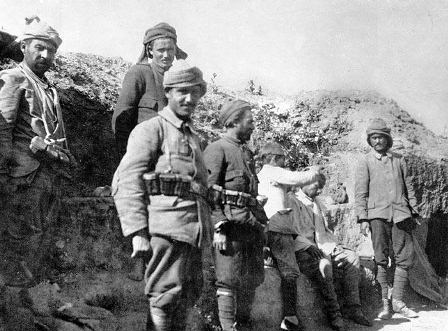 "Would love to see those who claim, 'Soldiering is an easy profession and the military are over-paid!', spend one night sleeping in ice mud. Would they ever repeat that statement? I don't believe so. I'm 21-years old. My hair and beard are already grey. My moustache is white. My face is wrinkled and my body is rotting. I can't anymore endure the hardships and privations we face without being upset. Being an Ottoman Officer only means putting up with grenades and bombs. 19.00 hrs: My captain and Faik take advantage of a slight let-up in the rain to leave. It is pouring. The valley is blanketed with fog. llluminato (Faik) has to move out of his dug-out because of flooding. Am sitting cross-legged on my bed as I work on my diary. 19.30 hrs: Rain has stopped. But the sky is still overcast. Wind has somewhat abated. Sounds of infantry and machine gun fire reach us. Meanwhile, llluminato and I chat. The poor fellow can only talk about promotion and how fed up he is with the war. And I can't stand that. Constant chatter about the same subjects is unendurable. Like me, he should be more philosophical about such matters. Tomorrow, it will be my Company's turn."
SOURCE:
M. Fasih (edited by M. Culcu & translated by H. B. Dansiman, "Lone Pine (Bloody Ridge) Diary of Lt. Mehmed Fasih, Fifth Ottoman Army, Gallipoli, 1915", (Istanbul, Denizler Kitabevi, 2001), pp.96-96.