HELLES - Gunner John Gunn, 14th Siege Battery, Royal Garrison Artillery, (attached) 29th Division, VIII Corps - John Gunn had only recently joined his unit. at Helles on 4 November. He was soon put on observation post (OP) duty assisting the forward observation officer. It could be dangerous work.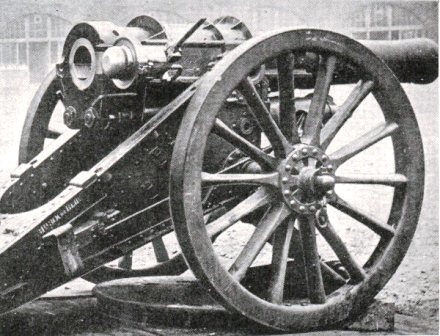 Photograph of near obsolescent 6" howitzer as used by 4th Siege Battery.
"I went out today in the trenches on observation work with Lieutenant Warburton. We started from our Battery and walked right on in the open to Fir Tree Wood OP. When nearing Fir Tree Post some Turkish sniper had spotted us and he put three shots in succession close to us, rather close for our taste, but we managed to get to the post without being hit; We went from the post right out to the front trenches, and visited the trench we had taken. I had a few words with some of the men, and strange to say they were all Scotch Corps, and I was delighted to come across the Lanark and Ayrshire Yeomanry, (whom I thought were in Serbia). I spoke to a few of them when I could, and I asked one of them if Sergeants Caldwell and Dunlop were with them. "Yes!" he says, "They are up in one of the other trenches! So I told him in case I did not see them, to tell them that Gunn from Springfield was asking for them, so they would get a surprise, but I may see them some other day when I may happen to be up again. Our troops had thirty casualties (five of them killed). I saw two of the poor fellows stretched out in the trench."
SOURCE:
IWM DOCS, John Gunn Diary, 16/11/1915.