HELLES - Colonel G H Edington, MD, the commanding officer of the 1/1st Lowland Field Ambulance, 52nd (Lowland) Division. The weather was changing on the Peninsula. November 11 was St Martin's Day, traditionally a time for feasting, and at Gallipoli it was going to be celebrated in similar fashion.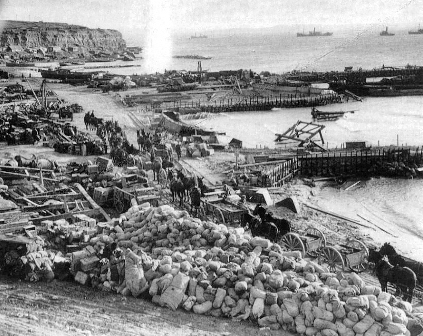 Photograph: Stores ashore on W Beach circa November 1915.
"Martinmas Term Day was ushered in by a small gale from the south east, with dust, straws, and fragments of paper flying about, and it was about as unpleasant as could be, although we were free from worries usually associated with that day at home. The wind continued high throughout the day; but the sun came out early and strong, and both forenoon and afternoon were very hot. The disagreeable weather conditions were counterbalanced at lunch by the issue for the first time of the cheese ration. The cheese was indeed very good, and went well with some light Greek beer which we had managed to secure, and which bore the imposing label "ZYӨOƩ ĦANӨOƩ".
SOURCE:
G.H.Edington, "1/1st Lowland Field Ambulance in Gallipoli", (Macdougall, Glasgow: 1920), p.54.