ANZAC - Colonel John Monash, Headquarters, 4th Australian Brigade, NZ&A Division, AIF - Monash seems to have been in a thoughtful mood as he wrote a letter home on 18 June.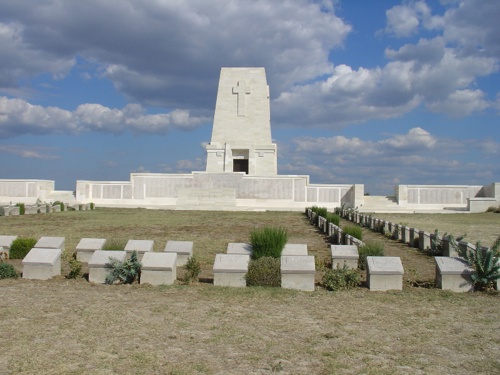 Photograph: Lone Pine Memorial - a noble memorial erected by the people of Australia on a high plateau overlooking Anzac Cove.
"I thought you would like a little bit of the Gallipoli Peninsula, or of as much of it as we have so far conquered, so I enclosing herewith a little twig and flower of broom, which grows wild in great profusion on the slopes of all the hills. Among wild flowers yellow predominates and many have a sweet scent. In the distance, in that forbidden land a mile or two away, still in the possession of the Turk, but some day to be trodden by us, are patches of green fields, clothed with bright scarlet patches of poppy. But the whole Peninsula, so far as one can judge from the peeps we get at our observation posts, has very little flat ground or cultivation and is a confused tangle of steep hills clothed with low green scrub like mallee. When peace comes, and we are free to move about the country, no doubt the tourist of the future will come to inspect these parts. The Catacombs of Rome will be a baby compared to the extraordinary amount of digging and trenching and road making and tunnelling that we have done. I suppose that someday, on some high plateau overlooking Anzac Beach, there will be a noble memorial erected by the people of Australia, to honour the memory of their fallen dead, who lie peacefully sleeping in the little cemeteries in the valleys all around."
Monash was almost right. Most of the bodies would be lost and the Lone Pine Memorial performs the function of commemorating the Australian dead. But Monash would surely be amazed at the number of his fellow-country men who gather here to pay their respects especially on 25 April every year.
In the same letter Monash mused on the transitory nature of international emnity/friendship.
"Today is the centenary of the Battle of Waterloo, and on the strenght of it a rum ration for all hands has been authorised. But we must restrain ourselves against any manifestations of joy, so as to prevent any offence to our Allies the French, for you see a hundred years ago the British, the Belgians, and the Germans were fighting the French, while now the British, the Belgians and the French are fighting the Germans. The whirligig of time brings many changes. In 1851 the British, the French and the Turks were fighting the Russians, while today the British, the French and the Russians are fighting the Turks. Who shall say what the next combination will be?".
SOURCE:
J. Monash (edited by F. M. Cutlack) War Letters of General Monash, (Australia, Angus & Robertson Ltd, 1934), pp.50-51