HELLES - Lieutenant George Davidson, 89th Field Ambulance, RAMC, 29th Division - Davidson a Doctor who had been involved in treating the wounded during the landing at V Beach was at dinner at the Headquarters of VIII Corps (which consisted of the 29th, RND, 42nd and 52nd Divisions). Here there was much intelligent conversation - or gossip - although Hunter-Weston was for the most part silent.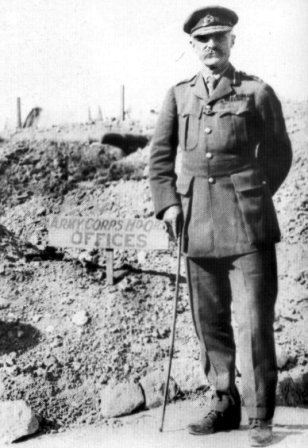 Photograph: Major General Sir Aylmer Hunter-Weston next to his headquarters at Helles.
"Headquarters. We have had a quiet night. The shelling does not commence here till the aeroplanes arrive from Tenedos. Last night at dinner various subjects were discussed, such as the duration of the war. The views of all were very depressing, although no one had the slightest doubt as to the ultimate complete smashing up of Germany, and the longer the war lasted the more complete would the smashing be. One man was sure it would be ended by next spring, another, who had lived long in Macedonia, is positive it will take two years from now. General Hunter-Weston took no part in this discussion, but looked interested and amused while his juniors threshed the subject out. All agreed that it was most laughable to read the forecasts in the papers at home, and that it was only now that England was realising how enormous the task before her was, and that the war will continue till both sides are just about played out, but there can be no doubt of our ability to hold out longest. The plans for the next big attack were also discussed. The General, who commands the whole army on the peninsula - including the French - arranges all details, under the Commander-in-Chief, Sir Ian Hamilton. The dates of former attacks were known to us all several days before they took place, and these invariably reached the Turks. To avoid this more secrecy is now observed, and it amused me last night to hear the General emphasise his dates in a voice that denoted that he did not mean them to be taken literally. This was to bamboozle me, I thought, the only non-combatant present, but occasionally he stumbled. As it was always with regret that I came to know the dates of former attacks some days ahead I was glad to observe this attempt at secrecy. I remember we were once to commence at 7 o'clock, and the Turk let fly at us at 6.45, determined, sensible man, to get in the first blow. When talking about crushing Germany, all regretted that our country was so soft, and would not crush sufficiently; however, they thought they could rely on Russia and France insisting on this being carried out very thoroughly.
After breakfast I walked down about 300 yards to Helles point, wondering what had come of all our shipping. The hospital ships are there, one small supply ship only, a few mine-sweepers, and close in under the rocks a British and a French submarine, lying beside the keel of the Majestic. It appears a German submarine had been sighted last night, hence as many of the ships as possible had fled. A French ship is battering Kum Kale, and kicking up a tremendous dust. An officer from H.Q. was regretting the inability of the Navy to help us. At last, I hope, even the Navy has discovered this for themselves, for land operations they are of little use. Then we must rely on our field guns and howitzers, and these only. Another 5-inch howitzer battery arrived last night, I hear, and we have 9.2-inch guns somewhere, but I fail to gather whether these had been actually landed."
The next attacks that were being planned would take place on the 12-13 July.
SOURCE:
G. Davidson, The Incomparable 29th and the River Clyde (Aberdeen: James Gordon Bisset, 1920), pp.125-127