Salford fallen remembered on new Gallipoli Memorial board in Swinton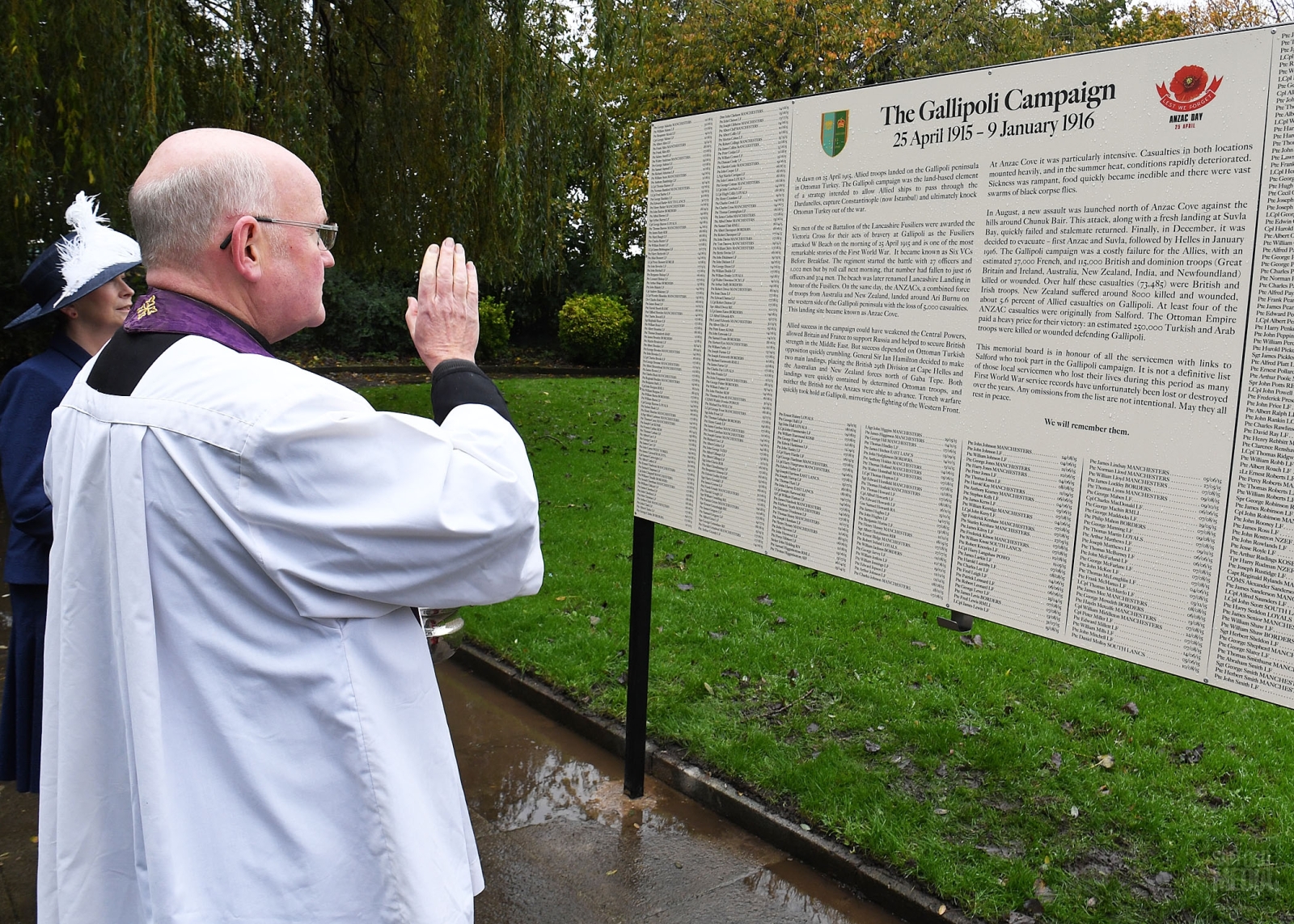 A Gallipoli Memorial and ten Memorial Benches were unveiled at Swinton Cenotaph Gardens on October 31st.
The memorial board lists 494 servicemen with links to Salford who are known to have died on active service during the course of the Gallipoli Campaign.
The idea for the Gallipoli board came from Glenn Croston, a member of the Gallipoli Association, who meticulously researched the names on it. The project took four years to come to fruition. 
More than 100 people gathered for the unveiling ceremony, including relatives, representatives of various regimental associations, veterans and members of the public.
They were welcomed by Ceremonial Mayor of the City of Salford, Councillor Gina Reynolds. The High Sheriff of Greater Manchester, Mrs Mary-Liz Walker, read Ecclesiasticus 44:1-15. Father Jeremy Sheehy, of St Peter's Church in Swinton, led the assembly in The Lord's Prayer and the Act of Remembrance / Dedication, before proceeding to bless the newly dedicated benches and the Gallipoli Memorial Board.
Fifteen standard bearers paraded. The bugler was provided by the Royal Green Jackets Regimental Association. Carrying the wreath for the Greater Manchester Armed Forces was local veteran Graeme McCaig. The Salford in Harmony singers brought the event to a poignant close.
Following the ceremony, a reception was held at Salford Civic Centre.
The successful event lays the foundation for an annual Gallipoli parade and service in Salford, to start next year.
The first group of local primary school children is scheduled to visit the memorial garden this week, and it is hoped that they will find the exhibits both engaging and informative.
Swinton Cenotaph Gardens can be found on Chorley Road, Swinton, Manchester.

Images from the unveiling can be seen at salford.media.
A short video of the ceremony is available on the Salford Media YouTube channel.