James Watson-Smith was amongst the GA Members at this years Collingwood Memorial Service, on 2nd June.
The Annual wreath laying is on behalf of the Friends of the Memorial and organised by Stuart Adam. This takes place at Collingwood Corner, Blandford Camp, Dorset, and luckily again in glorious summer weather.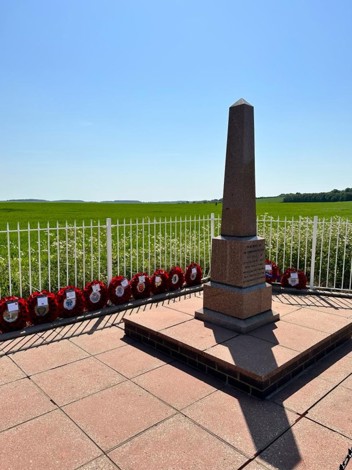 Wreaths were laid on behalf of the following:
Lord Lieutenant of Dorset
Friends of Collingwood
Blandford Garrison
Officers and Ratings H.M.S. Collingwood
Gallipoli Association
Mayor of Blandford
Dorset Council
In Memory of Frederick Willoughby RMLI
In Memory of Lt Cdr W.M.Annard
A small contingent of Ratings were present from H.M.S. Collingwood and a bugler from the Royal Signals.
Following the service the Garrison Commander, Blandford Camp invited those present for tea in the Officers Mess.
Members would I'm sure be welcome to attend this event held on the closest Friday to the 4th June each year and I would be pleased to pass details of those interested onto Stuart Adam.
Report by: 
James Watson Smith