Anzac Day 2021 in Jerusalem
The Gallipoli Association was pleased to accept the Australian Embassy's invitation to join their Anzac Day service held yesterday at Mount Scopus CWGC Cemetery, Jerusalem.
by Michael D. Robson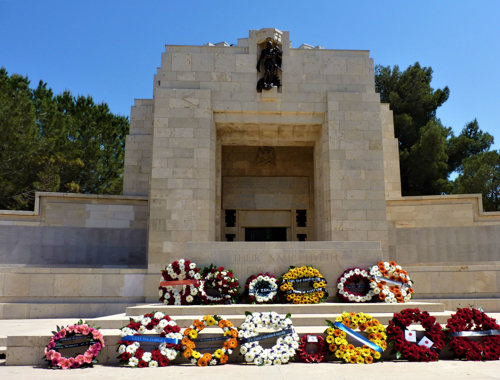 After 2020's cancellation due to Covid-19, this year's service at Jerusalem was a great advance, however we are still not yet back to normal. Nevertheless, the Australian Embassy to Israel pulled out all the stops and did an excellent job within the limits of the local health regulations. Their Commemorative Service, held on Anzac Day morning at the C.W.G.C. Cemetery on Mount Scopus, was a private ceremony, with the public invited to join in via a live broadcast on Zoom.
Attendees were welcomed at the gate with a sprig of Rosemary (for remembrance) and then directed to well-spaced seating, facing the Stone of Remembrance and the entrance to the chapel. Col. Brandon Wood, the Australian Defence Attaché opened the ceremony, before Rabbi Dr Raymond Apple A.O., R.F.D., made the call to worship. Psalm 23 was read by the Hon. Consul General of New Zealand, and then In Flanders Field was recited by Lt.-Col. Jim Priest of the U.K. The Anzac Day Address was delivered by the Australian Ambassador, H.E. Mr Paul Griffiths, following which wreaths were laid, including one on behalf of the Gallipoli Association. Next, Col. Wood led the gathering through words from Binyon's ode, before the Last Post, the Silence and the Rouse. The national anthems of Australia, New Zealand and Israel were then played, before the closing blessing was given by the Rev. Angeleena Keiser, of St. Andrew's Church, Jerusalem.
The Embassy had provided everyone with drinking water on what was a hot spring day in this shadeless cemetery, and after the ceremony, guests were invited to each enjoy a snack box before commencing their journey home.
My thanks to the Australian Embassy in Tel Aviv for their invitation and for their thoughtful hospitality.
The Australian Embassy's Facebook and Twitter pages have coverage of the ceremony. A video recording can be seen on Facebook.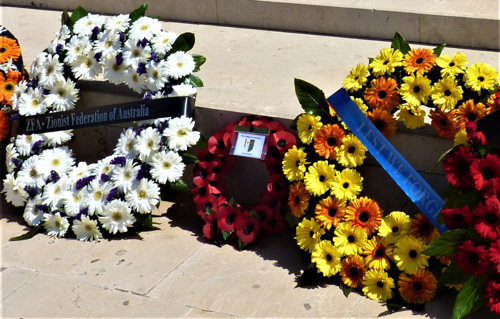 The wreaths, including one from the Gallipoli Association, were laid on the steps up to the Stone of Remembrance and beneath the gaze of St George, looking down from the facade of the Memorial Chapel.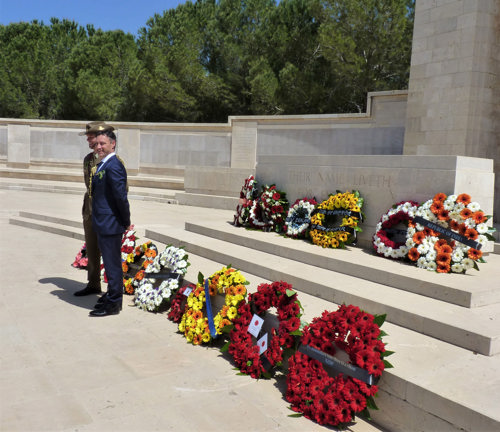 Ambassador, H.E. Mr Paul Griffiths and the Defence Attaché, Colonel Brandon Wood.

"