Marmara University - Perspectives of the Çanakkale Front
Gallipoli Association members in force at the Marmara University - Perspectives of the Çanakkale Front Conference
The panel (as it is called in Turkish) at which I was also one of the speakers, took place in the stately auditorium of Marmara University. This was located in Sultanahmet, a stone's throw from the famous mosque and Haga Sofia.
The theme was: "Perspectives of the Çanakkale Front" (being the second such Panel, following the first one in Canakkale in March) and the programme was as follows:
(Turkish) The Importance of the Çanakkale Front in terms of the Ottoman Army: Dr. Ali SATAN
(English) The Role and Importance of Çanakkale Battles in World History: Ed ERICKSON (who also spoke at the Canakkale Panel)
(Turkish) Çanakkale Battles: Remembering and Remembrance: Prof. Mesut UYAR (who also spoke at the Canakkale Panel)
(English) The German Factor in Gallipoli 1915: Klaus WOLF (who also spoke at the Canakkale Panel)
(English) "Winston's Little Army" The Royal Naval Division on Gallipoli 1915: Thomas IREDALE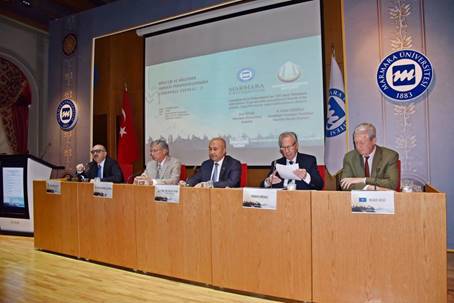 Summary and questions
The English talks were translated simultaneously into Turkish. Ed was focused on how the various nations viewed Gallipoli, what stuck in peoples' minds and reconciliation. Klaus' talk was similar to the one he gave at the last GA conference, but it was important to again outline the role the Germans played in the campaign. Tom's talk was more of a vignette, with lots of pictures, amongst all the other lofty topics and provided a bit of a change. As Klaus introduced the German involvement, introducing the RND also created a bit more Turkish awareness of its role in the huge mosaic of Gallipoli. Mesut did the summary in Turkish and there were a few questions, most of them fielded by Klaus and Ed. Incidentally, Mesut is the Dean of a University in Antalya and he organised the visiting professorship for Ed Erickson for an academic year (ending in July) and hopes Ed will come back again for another year.
The panel was again organised by the Çanakkale Savaşları Enstitüsü (who organised the Canakkale) and the Türk Şehitlikleri İmar Vakfi (Turkish Martyrs' Foundation), in conjunction with the University.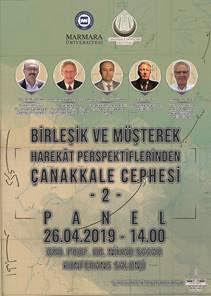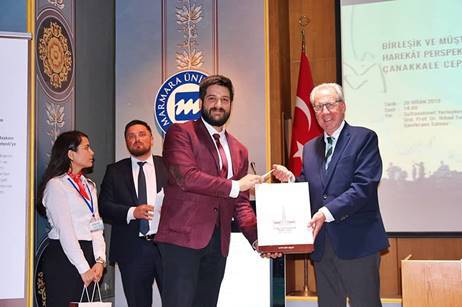 "