Wreck found of HMS Duchess of Richmond, a Gallipoli paddle-steamer
HMS Duchess of Richmond, a paddle-steamer that served as a Mediterranean patrol-boat during WW1, has been discovered and dived at a depth of 82m in the Dardanelles approaches by Turkish shipwreck-hunter Selcuk Kolay.
The 58m-long vessel was built in 1910 as an Isle of Wight railway-operated ferry, but six years later during the war the Admiralty requisitioned her to serve as an auxiliary patrol vessel, based in Malta. Surviving the war, in 1919 she was converted into a minesweeper.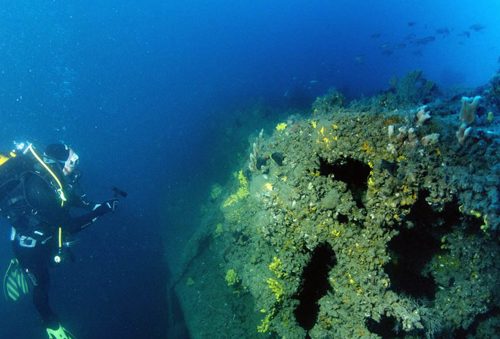 Picture: Ali E Keskin.
On 28 June that year the ship was clearing mines in the north Aegean under directions from an observation balloon tethered to it. However, when bright mid-day sunshine obscured the view of the two RAF officers in the balloon, who were in telephone contact with the ship's Commander Turle, the Duchess of Richmond struck a mine.
Two crewmen were killed, and the Duchess of Richmond took on water and was taken in tow, but sank within an hour. Crew from HMS Craigie picked up survivors from the water, including the RAF officers who had brought the balloon down safely.
Failing to find the wreck at the reported position, Kolay and his dive-team carried out a three-day side-scan sonar search over a wide area.
They eventually located the wreck south of Imbros island, 1.6 nautical miles south of where the sinking had been reported. The signal was "so good that the ship's distinctive profile could immediately be recognised," said Kolay.
Kolay carried out an exploratory dive using a closed-circuit rebreather three days later, when sea conditions allowed, accompanied by photographer Ali E Keskin, also on a rebreather, and videographer Kaya Yarar on open circuit.
The wreck was sitting upright on a silty seabed, its timber superstructure, deck and mainmast gone and the upper deck and bridge collapsed.
However the paddle-boxes and paddles were almost intact, and the boiler, funnel and the framework of windows originally beneath the bridge could all be seen. Damage noted at the stern could have been caused by the explosion or by the sinking.
Kolay is now hunting for HMS Hythe, another WWI paddle-steamer that sank in the area following a collision, and the German tanker Wilhelmsburg, sunk by the British submarine HMS Rorqual during WW2.
Full story and pictures of the discovery of HMS Duchess of Richmond in an upcoming issue of DIVER magazine.
Thanks to Savaş Karakaş for making the GA aware of this amazing discovery.
source: https://divernet.com/2019/11/12/kolay-finds-british-minesweeper-at-82m/