Lt. Cdr. Arthur Coxon – Rest In Peace
It is with regret and great sadness that we announce the passing of Arthur Coxon, a long standing and supportive member of The Gallipoli Association, who has passed away on 11 July at the age of 92 years.
Lieutenant Commander Arthur Coxon's father was an officer with the 5th Norfolk Regiment, and was wounded and taken prisoner on 12 August 1915 during the Norfolk's tragic attack at Suvla Bay. The myth around what happened to this battalion at Kuchuck Anafarta Ova has been perpetuated in TV drama and books, but the truth behind the so-called 'Sandringham Battalion' is now well known. Arthur's father being captured, one of several prisoners that day, is testimony that they did not all disappear into a cloud.
Arthur lived in the Vale of Glamorgan, Wales and regularly travelled to Association events; lunches, commemorative events and was a regular at our conferences. He had a passion for Gallipoli and was a proud descendant of an original Gallipolian, a Gallipoli veteran. Arthur used to regularly share the stories of his fathers time as a prisoner of the Turks and has visited the battlefield several times. Whilst he will be missed, he will be remembered always.
Arthur was also an active member of the Dinas Powys Community, dedicating so much of his time especially to the Royal British Legion, Probus and the Church in Wales. His funeral took place on Friday, 26th July at St Peter's Church, Dinas Powys, followed by a Cremation service which his immediate family attended.
Rest in Peace.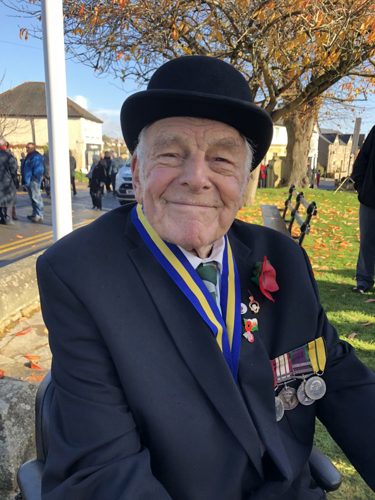 Photograph: Arthur proudly wearing his service medals and Gallipoli Association tie. Image courtesy of Dinas Powys.

"