A Father's Day memory worth having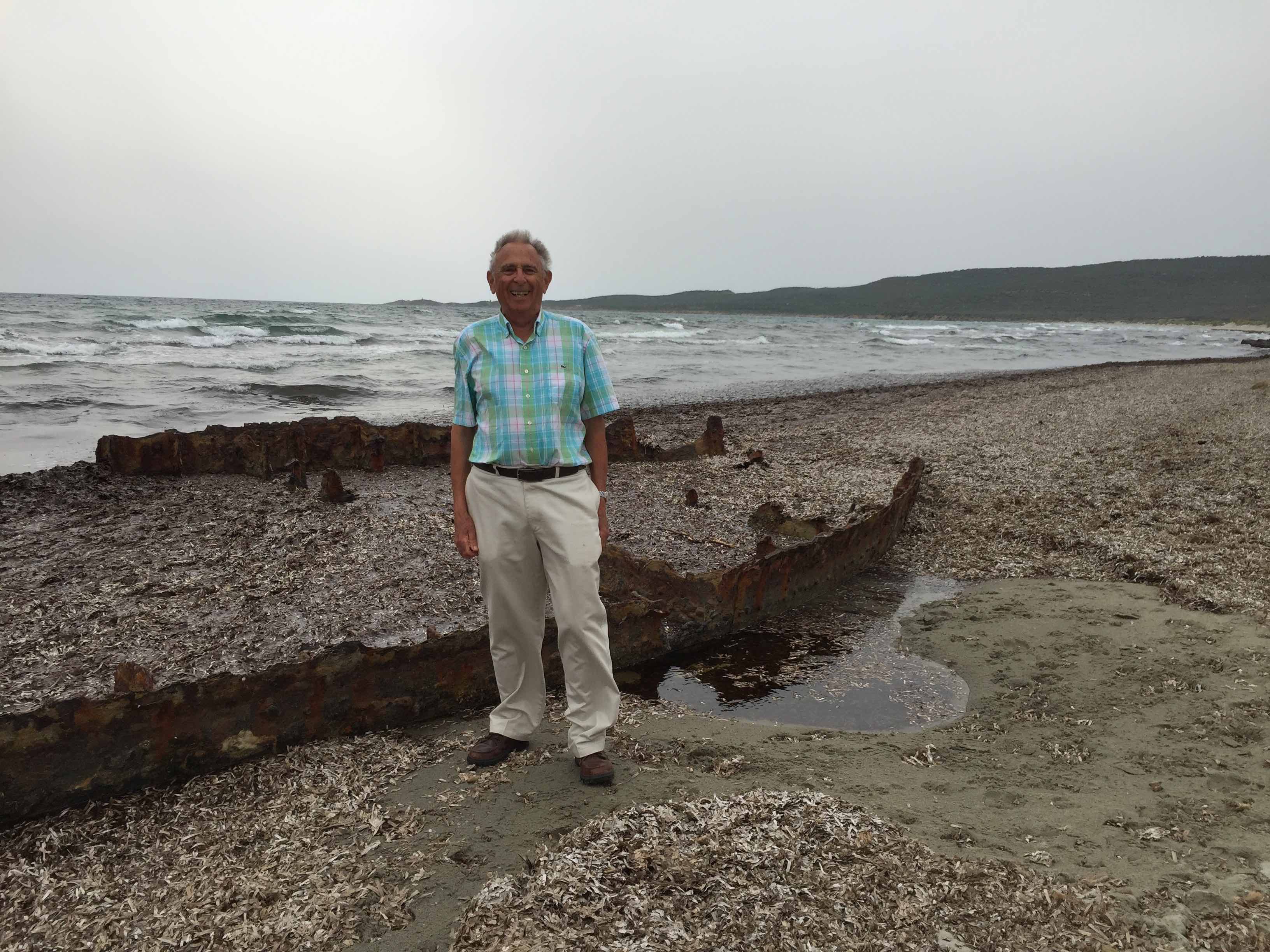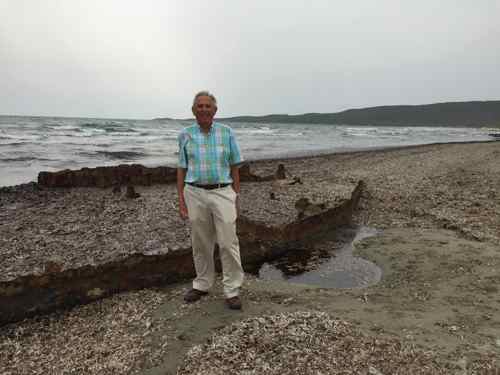 Thank you to Tony Siese for makng us aware of a recent letter he wrote about the moving experience he had during the May 2016 Gallipoli Association battlefield tour.
Photograph: Antony Siese by the remnants of the landing craft at Suvla Bay, Gallipoli, where his father was on duty 101 years ago.
..................................
Dear Sir,
Growing up during the Second World War, I was aware of my father being an ARP warden. He was too old to "join up" and had served during the First World War — the Great War, the one to end all wars. He was never one to talk about his experiences, although there were snippets of information, such as being in Port Said, Egypt, in Gallipoli and being invalided out because of dysentery during the Gallipoli Campaign.
He died in 1974, in his 83rd year. I had his medals and some papers, which I did not really look at until some 30 years later. The medals were in a small blue box, wrapped in a cloth that was used by my father to clean them before going on the Remembrance Day parade every November. They rested on top of cotton wool, under which I discovered his discharge papers and his re-enlistment papers.
He had joined the Territorial Army in the Welsh Field Ambulance in 1911, was medically discharged on April 6, 1916, having been with the Mediterranean Expeditionary Force, and landed at Suvla Bay. The other curious thing was he had two army numbers. However, this was explained when I discovered he re-enlisted in June 1916, was discharged in 1919 and placed on the Reserve list.
In the papers was a copy of the Gallipolian, a journal of the Gallipoli Association, which was formed in 1969. As a result, I contacted the association and ended up joining a year ago.
In the January 2016 edition was a note that there were going to be two tours this year, run by Battle Honours, which does tours to First World War and Second World War sites. In March, I decided to see if space was available for the May trip. This was to be a walking tour on the Gallipoli peninsula for five days, with 14 friends I had not met, with my sole interest to visit Suvla Bay.
Meeting at Heathrow, we flew to Istanbul and went by coach to Çanakkale, which took five hours, with a pit stop halfway. The first day we visited W Beach at Cape Helles, where the Lanchashires landed, the Lanchashires cemetery and V Beach. Walking over rough terrain and Hunter-Weston Hill to the Helles Monument. From there, we trekked on to Sedulbahir. The SS River Clyde did a landing here and was met by well-fortified defences. This was April 1915.
There were gun positions either side of the Dardenelles strait, which was mined. These positions were well fortified. The tour created more questions than I had answers.
The last day of the tour was a visit to Suvla Bay in the afternoon, the coolest and windiest day of a very interesting tour.
My fellow participants had by this time learnt of my interest and had initially thought that it was my grandfather who had been at the landing in Suvla. However, I did inform them that it was my father.
With overcast skies and white caps on the sea, we arrived on the beach to find the remnants of a "beetle" landing craft. I wondered whether this had been the actual craft that had brought my father to shore.
After taking photographs of the remnants and of the beach, I wanted to show respect to all who landed at Suvla, and in particular the volunteer Welsh Fusiliers, Borderers and the 2nd Welsh Field Ambulance. So everyone stood to attention, hats off, while I played and sang the Welsh National Anthem.
It was a very moving experience to walk in my father's footsteps 101 years after he had landed there.
ANTONY SIESE
Source: The Royal Gazette:Bermuda Letters to the Editor
http://www.royalgazette.com/article/20160618/COMMENT03/160619688