Sixth Form students' 'exceptional opportunity' at studying Gallipoli
The Gallipoli Association's 2016 sponsored study tour of Gallipoli had a 'very significant' impact on the four sixth form girls (at Wallington County Grammar School for Boys) who gave a full report on their experiences and research into the campaign to their peers on Monday 28th November. An inspiring and very professional looking video introduced their talk, combining pictures of the group and the stunning yet foreboding landscape of the landing points.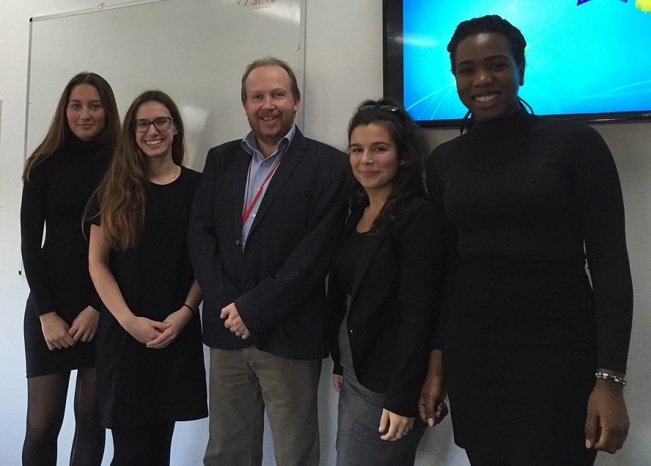 Photograph: The Wallington students with Gallipoli Association Historian & Battlefield Guide Stephen Chambers.
Louise, Shekinah, Abigail and Hana then described the motives for the allied landings and the decision-making in the context of the early months of World War 1 as well as the landings themselves. The experience of the 'common soldier' was analysed in terms of weather, sanitation, food, diet, health and trench warfare itself supported and illustrated by case studies of Jack Dunn, John Simpson and Charles Doughty-Wylie. His relationship with Gertrude Bell proved a source of fascination, and her life and career an inspiration for the students.
Their presentation concluded with an outline of the reasons for the failure of the campaign and different historical interpretations as to where responsibility should lie and the consequences of Gallipoli for the rest of the war. The students expressed their gratitude to The Association for providing them with this exceptional opportunity.
Peter Butterworth
Education Officer