Gallipoli Tour students present their research and talk about 'a fantastic experience'
Sixth form students who took part in The Gallipoli Association sponsored study tour of Gallipoli in July gave a presentation to around a hundred of their fellow-students on Tuesday 8 November at Peter Symonds Sixth Form College in Winchester.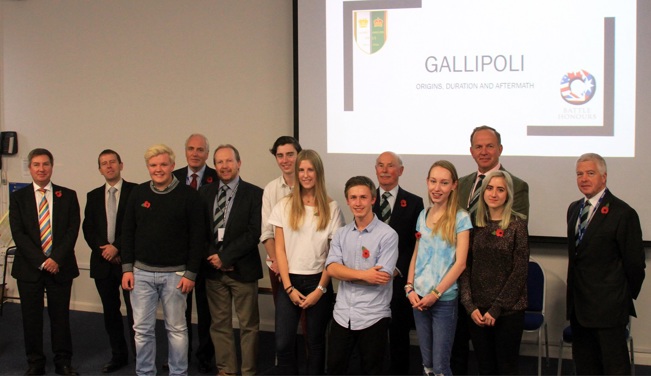 Photograph: Peter Symonds Principal, Assistant-Principal, Hampshire Councillor, the young historians and Gallipoli Association Trustees.
Jordan, Jake, Tim, Danielle, Jo and Holly were part of a group of eleven, led by the Association's Historian Stephen Chambers, who followed up their five day tour with research of their own. They spoke for about 40 minutes with passion, enthusiasm and knowledge about the Campaign, its origins and aftermath including the consequences for nations over a century later.
Their talks included the historical background to the First World War in the Mediterranean and Middle East, the initial strategic thinking behind the naval assault on the Dardanelles and the amphibious landings on the Gallipoli Peninsula in April 1915. There was a graphic and detailed description of life and death in the trenches using first hand eye witness accounts and photographs, the ebb and flow of the battles and the evacuation in January 1916. The students also looked at the military, political and national lessons to be learnt and how the Campaign is remembered today in Europe, Australia and Turkey.
It was clear from their research and presentation that the tour to the peninsula had been a profound experience for them all on an intellectual and emotional level. For some, the tour had influenced their career and university plans as well as their perception of the world as it was and is today. Many of the graves they visited were of troops of a similar age to them. They thanked the Trustees of The Gallipoli Association for the generosity of the bursaries which made this tour possible.
Peter Butterworth
Education Officer