Report on Anzac/Gallipoli Day 2016 Services in London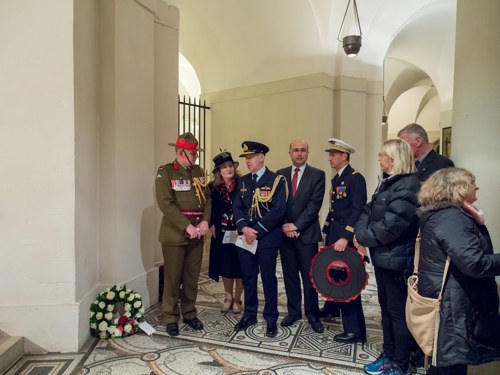 The Secretary is grateful to all correspondents who provided the following reports on Remembrance Services held on or about 25 April at locations in the United Kingdom and elsewhere.

London

Anzac/Gallipoli Day began as usual with the Dawn Service where some of our members were among the large crowd at Hyde Park Corner where the service was held following which wreath-laying took place at the Australian and New Zealand War Memorials.

The Association's wreath-laying ceremony at The Gallipoli Memorial in St Paul's Cathedral took place at 9.30am. The short but moving service was conducted by The Revd. Canon Mark Oakley, Chancellor and Canon in Residence after which wreaths were laid at the foot of the memorial by representatives of HM Government and the Armed Services, by the High Commissioners for Australia and New Zealand, the French Air Attaché and the Turkish Ambassador. For the first time, the Republic of Ireland was represented at the service by Miss Barbara Cullinane, the Deputy Head of Mission at the Irish Embassy.   Our Chairman laid the Association wreath. The Exhortation was given by James Watson Smith and the words of Kemal Ataturk were delivered by H.E Mr Abdurrahman Bilgiç the Turkish Ambassador. Last Post was sounded by L/Sgt. M Beasley, Corps of Drums, 1st Bn. Grenadier Guards and the Lament played by L/Cpl R Spence, Drums and Pipes, RHQ Irish Guards. 

At 11.00am, we joined the 'Anzacs' at the Cenotaph where some 40 'Gallipolians' formed one of the contingents on parade. HRH Prince Henry of Wales laid a wreath on behalf of Her Majesty The Queen, and was followed by High Commissioners for New Zealand and Australia and then by the Heads of the New Zealand and Australian Defence Staff and by representatives of the other nations involved in the Gallipoli Campaign. The Gallipoli Association wreath was laid by our Chairman. At the conclusion of the wreath-laying, Last Post was sounded by a trumpeter from the Band of the Welsh Guards;   Silence was then kept followed by the sounding of Reveille. A short service conducted by the Revd. Steve Bennett, Minor Canon at Canterbury Cathedral who led the prayers and gave the first reading. Other readings were given by Miss Georgina Lawrence and Master Coby Heinze. The service concluded with the playing of the National Anthems of the United Kingdom, Australia and New Zealand. Later, at the invitation of the Australian and New Zealand High Commissions, Association members were able to participate in the Service of Commemoration and Remembrance in Westminster Abbey. Instead of the traditional Gallipoli Day Lunch, the Association held a reception for members in the Officers' Mess at Wellington Barracks.   This was attended by some 40 members of the Association and provided a pleasant opportunity for members to meet on the important day.

Report by Foster Summerson, Secretary.

Photograph Credit: Graham Lacdao at St Paul's Cathedral.

"