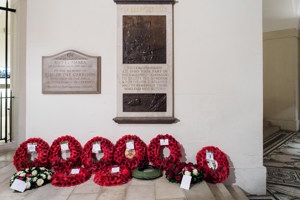 Event Details
25 Apr 23 05:00 - 25 Apr 23 06:00
Commemorative
London
The Anzac spirit lives on in the hearts and minds of all Australians and New Zealanders, no matter where they are in the world.  
On Anzac Day, we remember those who defended our nations - but never came home.  
The Australian and New Zealand High Commissions to the United Kingdom are proud to commemorate the courage and sacrifice of those who contributed so much to shaping the story of our nations.
Due to preparations for the Coronation of Their Majesties The King and Queen Consort on Saturday 6th May, it will not be possible to invite the public to the annual Service of Commemoration and Thanksgiving at Westminster Abbey.  
However, The Dean of Westminster, The Very Reverend Dr David Hoyle has kindly invited a very small number of representatives including the High Commissioners for Australia and New Zealand, and armed forces representatives to honour the Anzacs at a special service at the Grave of the Unknown Warrior. Photos will be shared afterwards.  
As per previous years, the public, members of the defence forces and dignitaries are invited to gather and pay respects to those lost in conflict at a dawn service at Hyde Park Corner in London and as well at a wreath laying service at the Cenotaph later that morning.
Draft Programme, Tuesday 25 April 2023
Anzac Day Dawn Service
5.00am – 6.00am
Hyde Park Corner, London
The Dawn Service is not a ticketed event, but security checks will be in place. More details on attendance will be shared in the coming weeks.
Gallipopli Memorial Wreath Laying Ceremony
9.00 for 9.30am
Crypt of St. Paul's Cathedral
Wreaths will be laid by a representative of His Majesty's Government, senior representatives of the Royal Navy and the Army and high ranking officials from Australia, New Zealand, France, the Irish Republic and Turkey. The Service at St. Paul's is open to everyone because tickets are not required. Photographic ID will need to be shown and attendees to be seated by 9.00am.This service is arranged by the Gallipoli Association
Anzac Day Cenotaph Service
11.00am – 11.30am
Whitehall, at the Cenotaph
Gallipoli Day Lunch  
12.30pm to 3.00pm
Greencoat Boy Public House, Artillery Row, SW1P 1RZ
Enquiries
Please email events@gallipoli-association.org with any queries