SUVLA - Private Basil Eames, 1 Dorset Yeomanry, 2 Mounted Division, IX Corps - Here follows an extract from a long letter written on 30 September by Basil Eames from Gallipoli. The letter was originally published in The Gallipolian in 1973, the full contents of which Association members can read via journal archives page.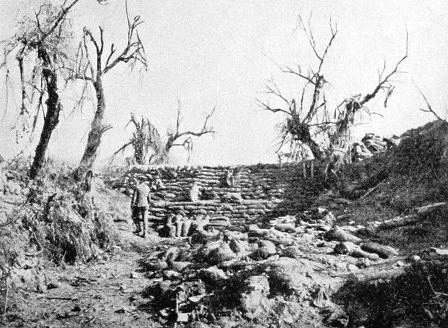 Photograph: A barricade in the Azmak Dere named the 'Highland Barricade'. Established during the 21 August attack, the barricade marked the division between the Turks and British in this dry river bed. When winter came it was not going to be so dry!
"My dear Phil,
A very large mail arrived the day before yesterday and I had the luck to bag the following: letters from yourself, Dorothy, Joy, Mr Rider, Vera Noble, Ethel Rice, 2 letters, tobacco and papers from Ewart and a large 4 Ib tin of Mackintosh toffee-de-luxe. The latter was sent straight from the firm but in Dorothy's letter she hopes I have received the tin of Mack toffee sent by Dad and Ewart; hence I take it that is the tin referred to. Imagine my delight at receiving all the above. Many, many thanks for the letters from home and especially the toffee. Such a gift as the latter is invaluable out here and I can assure you it was most welcome. The other fellows in the trench were not long in noticing what I had received and the tin has been duly handed round. The letters of this mail were the first I have received in answer to letters and postcards stating I was in Gallipoli. I must thank you all for the kind expressions of thought and good wishes for my welfare and safety. I have seen the papers that refer to the Battle of Hill 70 that we took part in on August 21st. Although the 2nd Mounted Division took part that day yet it was only the 2nd South Midland Brigade that charged Hill 70. This Brigade comprises the Dorsets, Bucks, and Berks, and the Divisional General after the battle specially complimented the Brigade for its gallantry. The reports in the papers are no exaggeration of the affair but you must allow for the journalistic touch. The letter I received from Mr Rider was delightful. Please give him my kindest regards and best thanks.
You will no doubt be interested to know of my recent doings. We were in the trenches for four weeks till last Sunday, when we were relieved and taken into the reserve where we are now stationed. During that four weeks we were a fortnight in the reserve line and a fortnight in the front firing line about 150 yards from the Turk so I consider that for a commencement of trench life a month is a good sample. As far as I can remember the North Somerset Yeomanry started with 48 hours which is very reasonable indeed. It is difficult to describe what trench life is like. It is a 'sardine' life in which you do not get any real rest. The trenches we were in were about seven feet deep with good parapet of sandbags. It was my luck to be stationed with the rest of my section at the end of the trench which meant a keen lookout on the flank as well as the front. Within 30 yards of the end of the trench was a natural gully, which ran from our lines to those of the Turks. This of course was a source of danger to us as the enemy could come up the gully and have a look at our position. In order to prevent this we were ordered to sap out a small trench from the main one to the gully. When this was finished, I was detailed with five others to guard the sap which was a pretty trying business. The gully was a ghastly sight as it was full of dead men, mostly English, with a few Turks. These poor fellows had been killed during the advance and it has been impossible to bury them. Many of them I'm afraid, having been wounded, crawled into the gully for cover, and died there. Sentry duty consisted of one hour on and three off during the day and one hour on and two off during the night. From this you can easily see we got very little rest indeed. You cannot sleep much when you only turn in for two hours at a time. It was also a nerve-wracking job for we had to keep a sharp lookout at the loopholes with loaded rifle. During some nights the Turks advanced up this gully but they soon returned when we opened fire and threw bombs. Snipers were so close to us that I could plainly hear them reload their rifles after firing. The worst of it all was the realisation of having so many dead men around you. Without being unduly callous but at one loop-hole you could put your hand over and touch two fellows or rather what remained of them. Sentry duty in the dead of night is a weird business. The black darkness is relieved by the flashes from the rifles and by the big star lights and rockets thrown into the air by the enemy and ourselves. These star lights light up the various positions and thus enable us to see who is about. Firing continues through the night with a kind of ebb and flow; occasional shots for some minutes and then it is taken up by the whole line. There are other numerous duties which each man has to do his share of ration fatigues, working parties, burying parties; and listening post. The latter is quite exciting work. You are detailed off with a party of others to go out in front of the firing line between your own and the enemy lines and there you lay down with your ear to the ground and listen for any movement of the enemy. Of course this is only done at night time.
There is one thing that has surprised me most of all, namely the way we are fed when in the firing line. I do not want you to run away with the idea that we are provided with luxuries but our rations consist of good plain food. Let me give you a typical day's rations Breakfast- Tea, bacon, biscuit or bread and jam. Dinner - Bully beef or fresh meat (stewed or boiled) with onions and potatoes, bread or biscuit. Tea - Tea, bread or biscuit, jam and boiled rice. Twice a week we get an issue of rum and once a week an issue of tobacco or cigarettes. Whether you enjoy your food or not depends upon the cooking. We used to do our own in such things as mess tins or biscuit tins, but in our troop we happen to have the Squadron Cook and so we are relieved of the job and I can assure you he is famous. He makes grand tea and his stews and rice are a treat. You will be surprised to see we get bread and fresh meat. This is not regular but during a week we might have three days bread and meat and four days biscuit and bully. The latter you soon tire of so we are deeply thankful for the bread and meat which is a great change. I call it a marvellous organisation that can supply men with such food in a country where no roads exist and which was practically uninhabited except for a few peasants before the war.
I told you at the commencement of this letter that we are now in reserve about ½ mile from the firing line. We now have a little time to look around and are able to get more rest. We are still in trenches and they shell us every day with shrapnel. However, I am glad to be relieved from the continual nerve tension that comes over you in the firing line. Every day and night we go out in parties digging trenches. This pick and shovel work is very tiring indeed and is more than I am used to. I am now able to have a clean-up. Yesterday I got leave to have a sea bathe. We are only a mile from the coast and in fact you never lose sight of the sea as the peninsula is so narrow. How I enjoyed that bathe - the first good wash for about six weeks. Just after landing here I lost my pack which contained a change of underclothes I have now managed to get hold of a pair of socks and a shirt and yesterday I took off a pair of the former I had worn for seven weeks and a shirt I had had on for six weeks. It is impossible to keep clean in the trenches and I regret to say my clothes are dirty and verminous.
We have been having some peculiar weather lately, the kind of weather that soon knocks you up; a mixture of very hot and wet days and very cold nights. Some nights are bitterly cold and sometimes when on sentry I have been absolutely shrammed. When it rains the trenches soon become a quagmire and already in places they are a foot deep in water. I cannot say that I'm feeling over fit and robust but I must not grumble. I put it down to a kind of reaction that must set in after a period of nerve tension and lack of rest. I wish we were like the Tommies in France who after a period in the trenches are withdrawn right away from the sound of battle and are given a good rest in barns and empty cottages with a chance of purchasing grub and dainties, etc. We cannot have that here where the only ground we hold has been taken at a high sacrifice of blood. I regret to say our numbers are getting smaller every day. Casualties have claimed some but sickness is taking away a large number of men to hospital. What has surprised me is that I have stood it so long while men of stronger physique and bigger build have been knocked up quickly. For good health and fitness I am devoutly thankful and I pray that I may continue to keep fit and well so that I can carry on and do my bit for the Old Country."
SOURCE:
.