ANZAC - Lieutenant Clarence Herbert Dakin, 20th Battalion, 5th Brigade, 2nd Division, AIF - Lieutenant Clarence Herbert Dakin wrote up his diary on 24 September and as he explains he summarised the last few days as up to then he had been badly handicapped.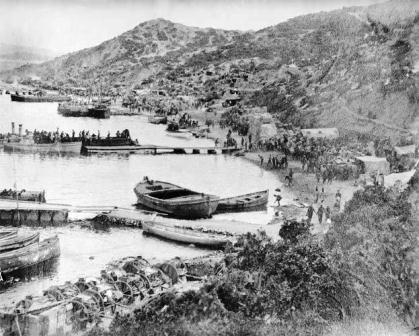 Photograph: View of Anzac Cove mid-summer 1915. [AWM A03632]
"Owing to poisoned hand I have been unable to do any writing for two weeks. Most of the time has been fairly quiet occasional outbursts on either side. Last week they landed on the beach in front of us a battery of guns. There are I believe a lot more big guns still arriving so that there ought to be something doing shortly. Early this week the Turkish artillery on our left gave a demonstration it lasted about 30 min in which they must have sent along a few hundred shells but from our position we could see them all sink out at sea near the battleships which began to reply. Big supplies of stores being stacked up at the foot of this hill and around at Anzac; the small railway line extends now for about a mile and a half around the beach. They also have two big motor lorries carrying supplies to our left, they only run during the night time as they have to cross ground exposed to the enemy's fire - this is the place where the despatch rider crosses sometimes four or five times."
SOURCE:
C. H. Dakin quoted by J. King, Gallipoli Diaries: The Anzacs' own story Day by Day (Sydney: Kangaroo Press, 2006), p.180.