SUVLA - Second Lieutenant Kenneth Greenaway, 4th Battalion Worcestershire Regiment, 88 Brigade, 29th Division - Greenaway was commissioned into the Worcestershire Regiment, arriving at Suvla Bay on October 9th with a draft for the 4th Battalion. This is one of his letters home dated 31 October: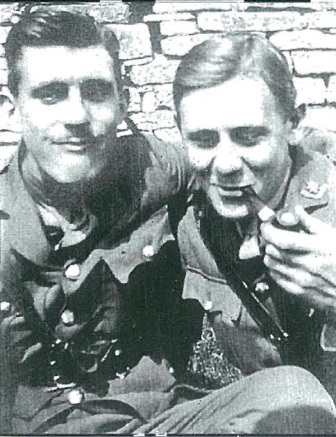 Photograph: Kenneth Greenaway (left) with friend. Second Lieutenant Kenneth Greenaway was killed by a snipers bullet, whilst repairing wire, on 27 November 1915. He is buried in Azmak Cemetery, Suvla.
"We are at a place called Gun Hill which gives us a fine view of the surrounding country and we can see the battleships and get beautiful cool breezes up here during the evening. I was coming back from visiting one of the guns and I had to come across 100 yards of open ground -just as I started there started a rapid fire from the Turks - I dropped like a stone and crouched behind a boulder for quarter of an hour with bullets hurtling all around me."
Your revolver accompanies me at all night rounds on account of the large number of Turk snipers we get here and they are glorious shots too but I haven't had the chance of a shot yet. But we live in hopes – now Hamilton has gone perhaps Munro will give us a job to do but the trouble is we haven't got sufficient men to support us – why cant they have conscription!"
SOURCE:
Article by Peggy Alexander entitled "Kenneth Greenaway – A Brief Memoir" which featured in The Gallipolian, No.101, Spring 2003, p.44.