MUDROS - Reverend Henry C. Day, Chaplain attached 2nd Mounted (Yeomanry) Division, IX Corps - Following Major General William Peyton's (GOC, 2nd Mounted Division) address to his battered Division, they began to arrive at West Mudros harbour on 3 November. Lemnos wasnt much of an island, but at least it was away from the guns. Mudros village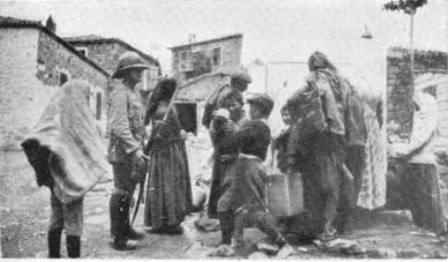 Photograph: A village near Mudros harbour showing a well under British guard.

"On Wednesday November 3rd, at six-thirty in the morning, we landed on the pier at West Mudros. From the same place the Division had set out three months previously to the number of over five thousand of the finest troops that Britain had sent out from her shores. A shattered remnant of four hundred returned. At ten-thirty we formed up, and started for camp. A search for food had been made, but none had been found. We were heavily laden, many carrying the additional burden of incipient dysentery, fever and jaundice. So weakened were all by the physical conditions of the past months that it tool the party five hours to march the four and a half miles to the bare space on the rocky upland which was to be our rest camp. From necessity a halt had to be called every two or three hundred yards, and during one of these in the village of X an amusing incident occurred. I was lying by the roadside in the rear contemplating a Union Jack flying over a large white house in the outskirts of the village, the Military Governor's residence, when my reveries were interrupted by the approach of a cavalcade headed by a similar flag borne on a lance top. The General, mistaking me for the C.O., stopped and interrogated me sharply. He wanted to know what the _____ troops under my command were doing lying about in the village. I explained that I was the chaplain, and referred him to the Colonel fifty yards up the street. It was flattering to be mistaken for the commanding officer, especially in the circumstances of being unshaven for three days, in ragged attire and without collar or tie. Yet in spite of the compliment I resented the professional lack of sentiment. The General was Sir William Western, K.C.B., I did not know him at the time, but was early privileged to make his acquaintance. I discovered then that he was one of the kindliest and most considerate of men. He had a long and honourable record of service. He had been wounded during the Dardanelles operations, and was subsequently appointed Military Governor of West Mudros. He was amused to hear of the first impression he had made on me."

"

SOURCE:
H. Day, "A Cavalry Chaplain" (Heath Cranton, London, 1922) pp.175-176.