Corporal Ralph Doughty, 2nd Battery, 1st Field Artillery Brigade, AIF -Doughty had begun to feel ill on 26 July. He may have been suffering from dysentery but the polite conventions of the day mean that even diaries are somewhat circumspect as to the exact nature of illness. There was also para-typhoid to consider.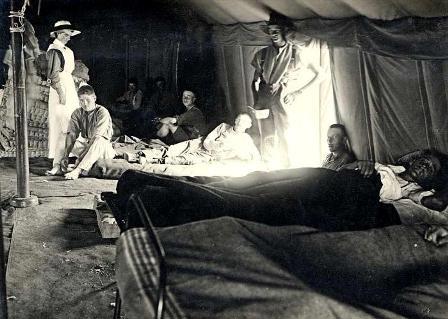 Photograph: Lemnos Hospital ward.
"Feeling absolutely rotten - that fever again. Couldn't sleep so sat up all night and read. Went down to the Doctor in the afternoon after 'things' told me I'd have to go out for a time. Beautiful, I don't think. Feel like you do after a night out and as energetic as anyone with a temperature of 104 degrees! All last night they spent in getting me down to the beach. Asia couldn't stop firing even then - got evil designs on me, I think. Got down to the base, and got plonked on a mine sweeper bound for God knows where. Feel awfully cheerful. Came along side an Australian hospital ship and was not allowed to go on board, although British Tommies, just ordinary cases were. We asked the embarking officer if we could go on board our own country's ship, but were refused. Arrived at Lemnos. Had to walk about ¾ of a mile to what proves to be the most perfect hell I've yet struck. Was left lying on a road for 3 hours before we got into any sort of tent at all! Couldn't get anything to eat or drink and the tent was so full that we were put on the stones with only one blanket. All day today I've been waiting to see the doctor of some description - saw him finally. Ordered me straight away to bed. That was 2 pm. Nobody has troubled so far. Three of us dragged ourselves into a village this afternoon and bought some eggs which we ate raw. That was the only thing I've eaten in 56 hours. Find that this 'hospital' is the 16th Stationary and British. Applied for a transfer to our Australian hospital but was refused - only a few yards away. Before I'll come again to a British field hospital they'll have to shoot me!"
SOURCE: http://www.thekivellfamily​.co.nz/family_pages/ralphs​_diaries/Ralph_Doughty.htm​l
SOURCE:
R. D. Doughty, Diary 26/7/1915-30/7/1918